Possible Medical Malpractice Reform in Kentucky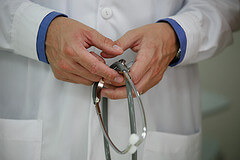 Kentucky is soon to decide what is proving to be an extremely hotly contested election. Mitch McConnell, the Senate Majority Leader, is facing off against Alison Lundergan Grimes, Kentucky's Secretary of State, for McConnell's Senate seat, and the campaign has been muckraking, to say the least. It is extremely close, and there are a few hot-button issues that are serving to set voters on one side or the other. The issue of medical malpractice reform has come up again and again in the media, and has the potential to polarize voters.
Current State of Medical Malpractice in Kentucky
As it stands right now, the current climate for medical malpractice in Kentucky is surprisingly patient-friendly. Medical malpractice is defined in Kentucky as a healthcare professional "violating the governing standard of care when providing treatment to a patient, causing the patient to suffer an injury." This definition is noticeably wider than that of other states – Florida's, for example, refers only to health care providers, then defines that further, leaving out certain classes like hospice workers or acupuncturists.
Kentucky has also bucked the prevailing trend when it comes to damages. The majority of other states have placed caps on punitive damages in medical malpractice cases, bowing to the cries of the medical lobby that insist enormous verdicts are common and will bankrupt doctors. Kentucky currently has no cap on punitive damages or attorney's fees in malpractice cases.
Tort Reform
Proponents of tort reform allege multiple reasons for why Kentucky should fall in line with the prevailing trend in medical malpractice rules – most notably, enacting a punitive damage cap. Dave Adkisson, the president of the Kentucky Chamber of Commerce, argues that the current medical liability climate in Kentucky actually drives away employers, because they fear incurring tort liability. He also makes the point that Kentucky already has a shortage of health care providers, and continuing unfettered malpractice liability will make that shortage worse.
Opponents of tort reform cite a distrust of the medical lobby and an unwillingness to tilt the proverbial playing field in a direction they already see as imbalanced. David Hyman, MD, JD, and Charles Silver, JD, co-authored an article published in Chest, a medical journal, that debunks many of the myths that proponents of tort reform in Kentucky propagate. Most notably, the idea that uninjured patients are routinely awarded 'enormous verdicts' and that 'tort reform is the only answer' is taken to task. The authors use data from Texas to show that after tort reform was adopted in 2003, very little changed in the amount of money plaintiffs were awarded.
There are several proposals before the Kentucky legislature that would tighten regulations, making the field arguably more level. One of the most talked-about is Senate Bill 119, which would create panels of medical experts to review claims. The opinions of the panel would not be binding, but they would create more persuasive evidence that a claim was frivolous that could be used in court. Opponents are unsure whether this would actually cut down on frivolous lawsuits, or if it would simply be another expensive boondoggle – the panels would require upkeep, after all.
An Expert Can Help
If you or a loved one have been harmed by medical malpractice, it is important to know what you can and cannot do, and due to the expense of malpractice legislation it is often best to have an expert attorney on your side. Call the attorneys at Meinhart, Smith & Manning, PLLC today for a free consultation.