Louisville Motorcycle Accident Attorney
Avid motorcycle riders are aware of the inherent risks and take safety precautions seriously. Unfortunately, passenger cars don't always share the roads how they should, ending with catastrophic accidents. If you've been injured while riding, contact our Louisville motorcycle accident attorneys today for an immediate, free consultation. Our team of knowledgeable injury lawyers at our law office will meet you in the hospital when necessary for free.
Louisville Motorcycle Accident Legal Resources:
Kentucky Motorcycle Laws
Motorcyclists do not have the same protections as other drivers and are therefore at greater risk of sustaining serious and life-threatening injury. Broken bones, road rash, and brain injuries are all common in motorcycle collisions. Our experienced injury attorneys will go against big insurance company on your behalf to reach a fair settlement to help cover medical bills, future rehabilitation treatments, loss of wages and more. Those who've lost a loved one in a motorcycle accident in Kentucky may also be entitled to compensation. Visit our Louisville car accident lawyer page to learn more about car crashes in Kentucky.
Common Causes of Louisville Motorcycle Accidents
Distracted Drivers
One of the most common causes of motorcycle wrecks in Kentucky is distracted, negligent, and reckless motorists. Drivers texting and driving, drinking and driving, speeding, failing to yield the right-of-way, and otherwise not paying attention to the road put motorcyclists' lives at risk. Drivers and motorcyclists should dedicate 100% of their attention to the road at all times. This means hands on the wheel, eyes on the road, and mind on the driving task.
With a lawyer's help, you might be able to prove another driver's fault for your motorcycle accident. Our legal team can quickly preserve key evidence, such as the driver's cell phone records, in an effort to prove distraction or negligence. We can also return to the scene of the crash for signs of driver distraction, such as lack of brake marks before impact. Our skilled team of Louisville motorcycle accident attorneys will work hard to help you prove the other driver's fault and recover for your injuries. We aren't afraid to go up against insurance companies in pursuit of fair compensation.
Defective Vehicle Parts in Kentucky
Sometimes it's not another driver that causes a motorcycle crash, but a defective vehicle part. If your motorcycle's brakes went out, a tire blew out, or you experienced another type of problem that caused you to wreck your bike in a motorcycle accident, talk to our Louisville product liability lawyers. There could be a chance the product manufacturer or motorcycle distributor is liable for your injuries and property damage. If you can show that the part in question had a design flaw, manufacturing error, or marketing defect, and that this problem caused your accident, you won't have to prove the defendant's negligence.
Unsafe Roadways in Kentucky
It's also a possibility that an unsafe or defective roadway contributed to your crash. Motorcycles are much lighter than the average passenger vehicle or truck, and therefore more vulnerable to dangerous roadway conditions. Potholes, loose asphalt, fallen limbs, uneven shoulders, debris, broken glass, construction equipment, and other dangers could result in serious single-motorcycle accident. If this was the case in your recent accident, you might be able to bring a personal injury claim against the city of Louisville.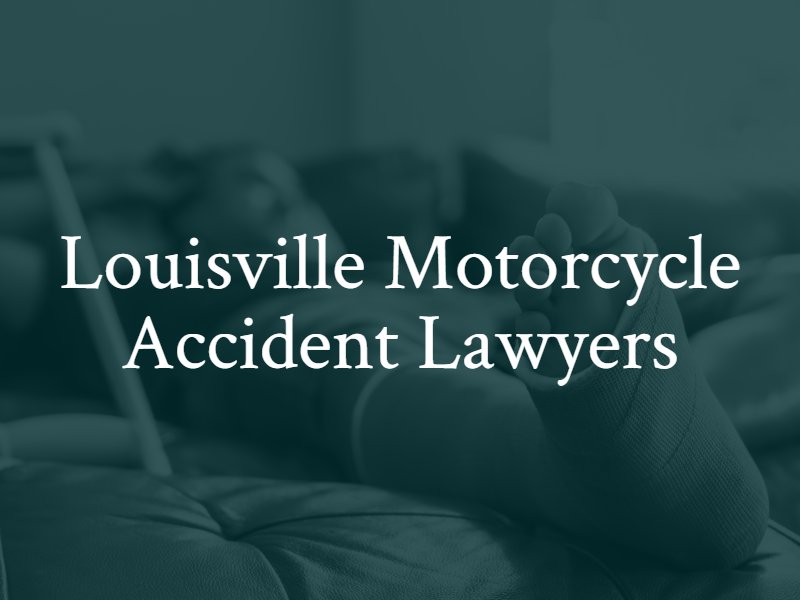 The City's Obligations to Maintain Safety
It is the city government's job to maintain its roadways to keep drivers, motorcyclists, bicyclists, and pedestrians safe. If the road maintenance crew knew or reasonably should have known about the defect but did nothing to repair it, the city could be liable for damages.
What Is The Time Limit to File a Motorcycle Accident Claim in Kentucky?
If you need to file a personal injury claim against the government in Kentucky, you have one year from the date of your crash to do so. Statutes of limitations are non-negotiable time frames so it's imperative injured parties contact a Louisville motorcycle accident attorney as soon as possible.
Why Are Motorcycle Accidents So Dangerous?
Motorcycle accidents are much more dangerous compared to other means of transportations. While riding a motorcycle is incredibly dangerous, relative to other modes of transportation including cars that have airbags seatbelts and other safety measures, motorcycle riders are much more vulnerable to becoming airborne and suffering catastrophic injuries compared to their passenger vehicle counterparts.
According to the National Highway Traffic Safety Administration (NHTSA), motorcyclists are about 28 times more likely to suffer a fatal injury in an accident compared to their passenger vehicle counterparts.
Braking Issues
Panic braking before an accident can cause a motorcycle to lose traction. A panic brake is an emergency stop that requires hard and controlled application and usage of a braking device during a moment of panic. If done improperly a panic brake can cause a tire of a motorcycle to lock up.
Minimal Protection
If a motorcyclist is ejected off of their back, they are prone to sustaining serious injuries and coming into contact with other objects before, eventually, hitting the ground. If a motorcyclist is ejected from a motorcycle in the event of an accident, personal protective equipment can help reduce serious injuries and can help reduce road rash, traumatic brain injuries and wounds from an accident.
Additionally, motorcycle safety laws vary from state to state regarding the usage of helmets and other personal protective gear. Although a helmet may not be a legal requirement for motorcyclists over the age of 21 in the State of Kentucky, a helmet can be the difference between a fatal injury and a non-fatal injury.
Does Kentucky Require Motorcyclists to Wear a Helmet?
According to data available from the Kentucky Department of Transportation, we can see that there are around 122,000 total registered motorcycles across the Commonwealth. Due to the popularity of motorcycles in this Kentucky, legislators have passed various laws intended to increase safety. However, there is no "universal" motorcycle helmet law in Kentucky. Rather, there are certain groups of motorcycle riders that are required to wear a helmet. We can break this down into three groups:
All motorcyclists under the age of 21 must wear a Department of Transportation-approved motorcycle helmet. This includes both the driver and the passenger who may be under 21.
Any person who only has a motorcycle instruction permit must wear a helmet, regardless of their age.
Any person who has had a motorcycle operator's permit for less than a year must wear a motorcycle helmet.
The penalty for violating Kentucky's motorcycle helmet laws generally includes fines. Some fines could be as low as $20, but they can also range anywhere from $100 to $500. The motorcycle helmet fines increased based on the number of violations a person receives.
Any motorcyclist in Kentucky who does not fall into one of those three categories is not required to wear a helmet on the roadways throughout the Commonwealth. However, there has been fierce debate over whether or not Kentucky should have a universal motorcycle helmet law. There is no doubt that motorcycle helmets significantly reduced the risk of fatalities and traumatic brain injuries in the event an accident occurs. Even if you do not have to wear a helmet, it is strongly recommended that you do so when you are on a motorcycle.
According to the National Highway Traffic Safety Administration (NHTSA), helmets reduce motorcyclist fatalities anywhere from 22% to 37%. Additionally, helmets reduce the risk of brain injuries by 44% to 65%. Kentucky used to have a universal helmet law in place, but this law was repealed in 2000. According to the NHTSA, motorcyclist fatalities increased by more than 50% in the state after the repeal of the universal helmet law.
What are Common Motorcycle Accident Injuries?
According to data available from the Kentucky Department of Transportation, there were nearly 1,500 total motorcycles involved in collisions across the Commonwealth during the latest reporting year. Out of these incidents, there were 88 fatalities and 1,106 injuries reported.
When looking at this data, we can see that motorcyclists are incredibly vulnerable to sustaining severe injuries or being killed in the event a collision occurs. That is because motorcyclists lack the same level of protection that passengers inside traditional vehicles have. Even when a motorcyclist is wearing a helmet and additional safety gear, their bodies often sustain two impacts when a collision happens – one impact with a vehicle and a second impact with the ground.
At Meinhart, Smith & Manning, PLLC, our attorneys regularly help motorcycle accident victims who have sustained the following injuries:
Traumatic brain injuries
Concussions
Spinal cord injuries with paralysis
Other severe neck or back injury
Whiplash
Severe lacerations or road rash
Broken or dislocated bones
Crush injuries or amputations
Internal organ damage
Internal bleeding
Additionally, our attorneys understand that motorcycle accident victims could sustain significant emotional and psychological trauma as a result of the crash and their subsequent injuries. The traumatic nature of a motorcycle crash is likely to leave an impact on those involved, long after the physical injuries have healed. That is why our attorneys strive to recover compensation for all of our clients' injuries, both physical and mental.

How is Fault Determined After a Motorcycle Accident?
Determining fault in the aftermath of a motorcycle accident in Louisville, Kentucky, can be challenging. Unfortunately, motorcyclists often have to contend with an unwarranted bias from other parties involved. What we mean by this is that the general public often views riding motorcycles as an unnecessary risk, which can automatically create an assumption that a motorcyclist is at fault when an accident occurs. However, determining fault after a motorcycle crash requires an extensive and unbiased investigation.
At Meinhart, Smith & Manning, PLLC, our team assists clients by using the resources of our office to obtain any evidence needed to prove liability. Gathering this evidence is the first step towards helping our clients recover the compensation they need. We work to gather as much of the following as possible after each crash:
Photographs taken at the scene of the crash
Video surveillance from nearby homes or businesses
Any available dashcam footage
Statements from all eyewitnesses
Police or accident reports
Data from mobile devices
Vehicle "black box" data
When there is a significant dispute over which party was at fault after a Louisville motorcycle accident, we may even employ assistance from an accident reconstruction expert who has experience handling these types of cases. An accident reconstruction expert can use the evidence that has been gathered, as well as scientific, mathematical, and statistical data, to recreate the scene, determine what happened to and provide testimony to insurance carriers or a personal injury jury.
Can I Recover Damages for If I Was At Fault For a Motorcycle Accident in Kentucky?
Individuals that were partially responsible, or responsible for the majority of the accident, can recover damages for the injuries and property damage that were sustained from an accident. Kentucky is a pure comparative fault state, also sometimes called a pure comparative negligence state, which means that during a personal injury claim, the percentage of fault or negligence can be distributed to each party involved in the accident. This compensation is then reduced by the proportion of each person's negligence.
Statute 411.182 outlines how damages for claimants can be recovered for tort actions – or actions that involve injuries. 
Hypothetically if an insurance company awards a $100,000 award for a motorcycle accident and two people are at fault for the accident. Damages will be awarded based on the percentage of fault.
Party A – Found to be 99% responsible for the motorcycle accident
Party B – Found to be 1% responsible for the motorcycle accident 
In the example above, Party A would be awarded 99% of the damages for $99,000. Party B would be awarded 1% of the damages of the damages awarded or $1,000.
In the event that there are more than two parties involved, the same breakdown of damages will occur. If one party is found to be 50% responsible for the accident and the second and third parties are found to be both 25% responsible damages will be awarded accordingly.  
No matter what caused your recent motorcycle accident and injuries, contact the experienced Louisville injury lawyers at Meinhart, Smith & Manning, PLLC  for assistance. Our law firm composed of skilled motorcycle crash lawyers will evaluate your case for free and can help you recover damages. We handle all personal injury, motorcycle accident, and wrongful death cases on a contingency fee basis- meaning you never pay attorney fees unless you win.