Louisville Emergency Room Error Attorneys
Emergency rooms (ERs) are, by nature, chaotic environments. A single emergency room can see and treat hundreds of patients in a single day, meaning they must work like well-oiled machines for optimal patient outcomes. Every medical professional involved, from the nurses to the emergency surgeons, must obey strict standards of care for the health and safety of patients.
A hospital or emergency room error of any kind could cause significant patient harm. If you or a loved one suffered due to errors or negligence at a Louisville emergency room–including stroke malpractice and misdiagnosis –contact the Louisville emergency room error attorneys at Meinhart, Smith & Manning, PLLC to discuss the possibility of a medical malpractice lawsuit.
Emergency Room Errors: Signs of ER Malpractice in Louisville, KY
The main question that a medical malpractice claim will serve to answer is, "Was the defendant negligent in causing the plaintiff's injuries?" To be eligible for financial compensation from an emergency room, hospital, or staff member in Kentucky, you must prove the defendant's negligence, or breach of duty of care. The very definition of "medical malpractice" is when someone in the medical profession causes injury to a patient through an act of negligence or an omission. Not every ER-related injury will give the patient grounds for a ER error lawsuit.
The following four elements must exist to prove medical negligence:
Duty of care. The defendant (a nurse, doctor, or other healthcare professional, or the hospital itself) owed the patient a duty of care at the time of the alleged harm.
Breach of duty. The defendant breached its duties to the patient in some way. A breach can be anything that falls outside of accepted standards of care in the medical field.
Causation. The defendant's act of negligence or omission directly caused the plaintiff's injuries or death.
Damages. The plaintiff suffered damages as a result of the incident. Damages can include physical injuries, financial losses, or emotional distress.
Unlike many states, Kentucky does not place a damage cap, or limit, on the amount of money a plaintiff can receive for non-economic damages in medical malpractice claims. This means there is no limit to the amount an injured patient could receive for damages such as physical pain or emotional suffering in a successful lawsuit against an emergency room. Help from a Louisville ER error lawyer is the best – and often the only – way to get the most out of your malpractice claim. Our Louisville medical malpractice lawyers know exactly how to fight for maximum compensation for your losses.
Types of ER Errors That Could Result in Lawsuits
While almost any type of negligence-related causing patient injury may be grounds for a medical malpractice suit, there are some forms of negligence that arise more than others. Communication errors, for example, are common in emergency rooms. If a medical professional doesn't listen to a patient's medical history, gets patients mixed up, misdiagnoses a health condition, fails to order the proper tests, or doesn't communicate with other staff members in the ER, it could end in a lawsuit. The same is true if there are prescription drug errors, misinterpretation of test results, ignoring symptoms, delayed treatment, or "patient dumping" – releasing a patient without care for financial reasons.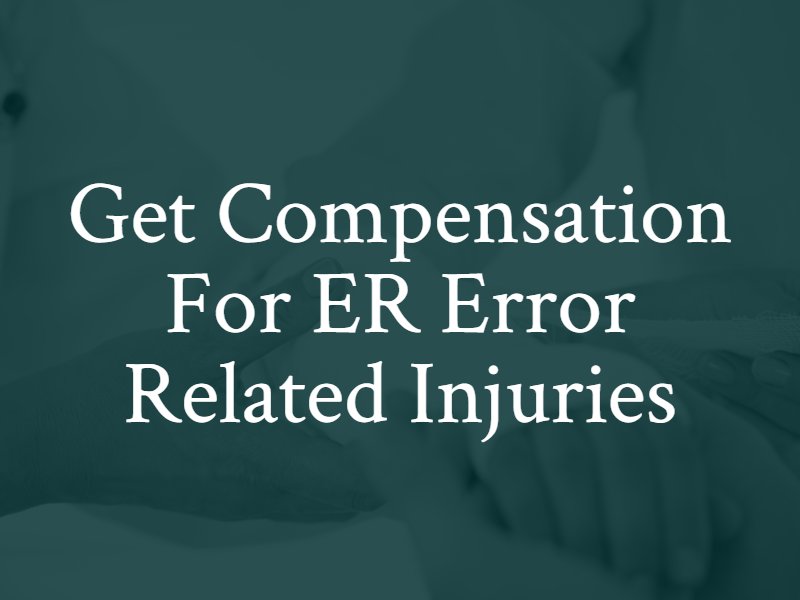 Contact our Louisville ER Error Injury Lawyers
With help from the Louisville ER error attorneys at Meinhart, Smith & Manning, PLLC you can learn whether you have the right to bring a malpractice lawsuit against an individual healthcare professional and/or the hospital for ER wrongdoings. The hospital could be liable for the actions of ER workers if they are employees of the facility. Our Louisville injury lawyers can investigate your injuries and tell you if your case has merit. Schedule a free case evaluation to get started.