Louisville Wrongful Death Attorney
Experiencing the loss of a loved one can be devastating, to say the least. When you feel it was due to an act of negligence or recklessness by another, however, the journey can be especially difficult.
Our Louisville wrongful death lawyers understand the emotional distress the sudden loss of a family member can have on a family. While it's never possible to adequately compensate for life, our experienced attorneys can help you seek the financial peace of mind that you and your family deserve.
If you believe a loved one as passed due to the negligence or recklessness of another individual or healthcare professional, it is best you consult with experienced, dedicated and trusted Louisville personal injury attorneys. This time can be a difficult time for you and your family. Contact our Kentucky law firm today to receive a free case evaluation. Our wrongful death defense team can help you through this difficult time.
Louisville Wrongful Death Resources:
What is a 'Wrongful Death' in Louisville, Kentucky?
In Kentucky, a "wrongful death" is any death that results from an injury the "negligence or wrongful act of another" inflicts. A wrongful death claim could arise after a car accident, medical malpractice, slip and fall injury, dangerous drug, defective medical device or product, homicide, or other scenario causing a fatal injury. When someone else causes the death of a loved one in Kentucky, surviving family members have the right to seek financial recovery through the civil court system.
What Are Common Causes of Wrongful Deaths?
While sudden deaths of loved ones can occur, there are certain activities that lead to untimely deaths more than others. Negligent actions can make activities that are already dangerous more dire. When negligent actions and dangerous activities occur, the results can be catastrophic. 
Automotive Accidents
Automotive accidents are a leading cause of wrongful deaths in the United States. Car accidents, motorcycle accidents and truck accidents are frequent contributors to wrongful deaths. Accidents involving automotive vehicles result in more than 38,000 deaths per year.
An already dangerous activity like operating an automotive vehicle can become even more dangerous when an individual is operating an automobile in unsafe or negligent conditions. Some of these conditions include:
Any driver that operates a vehicle under any of the conditions outlined above can contribute to a dangerous driving environment. If you believe negligence or unsafe driving techniques lead to the death of a loved one, contact our attorneys.
Medical Malpractice
Surgeries can provide benefits and potentially offer life-saving benefits to patients in need of medical treatment. They can also result in serious injuries or death if performed improperly. Medical malpractice accidents can occur from fatigue, inadequate experience, anesthesia errors, infections and errors. 
If a medical professional makes a mistake or is negligent in their actions during a surgical procedure, the surviving members of the deceased loved one may have recourse to recoup what damages from the accident.   
Defective Products
Most consumers never expect a purchased product to lead to serious injury or death. Individuals that purchase products expect them to work and perform properly and in a safe manner. When a product is defective, the results can cause grave injuries.
Who Can Pursue a Wrongful Death Case in Kentucky?
Not just anyone who knew or loved the deceased person is eligible for compensation for negligence in Kentucky. If you are not someone listed in the state's wrongful death laws, you will not receive damages. If you are, you must use a personal representative of the estate to file a claim on your behalf. The state's wrongful death statute restricts who may recover damages after a loved one's death – due to negligence – to only certain surviving family members, in the following order:
Surviving spouse
Surviving spouse and children (courts will split compensation down the middle)
Surviving children (if no surviving spouse exists)
Mother and/or father of the deceased
The estate
The courts will give all or a portion of the compensation to the plaintiff depending on the type of survivors in existence. For example, if a mother and father both file for the wrongful death of a child, the courts will award them each one half of the compensation award. If only a mother survives, she will receive all of the award.
If the deceased person has no surviving spouse, children, or parents, the whole amount of compensation will go to the payment of debts, and then pass to the decedent's family members, such as siblings. If you qualify for compensation, you must use a personal representative to file the claim. The courts will assign one (it can be family member) if the decedent did not name one in a will or estate plan.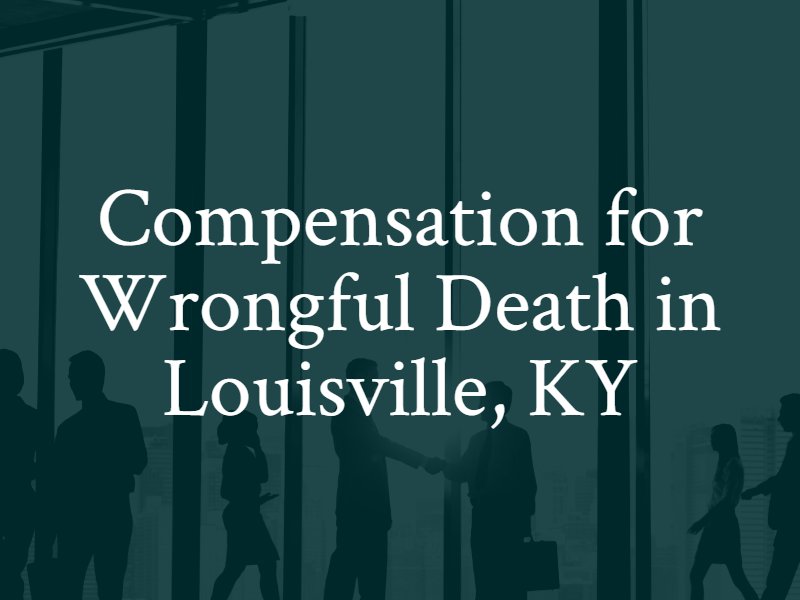 What Damages Can Be Recovered in a Louisville Wrongful Death Lawsuit?
Wrongful death results in different damages than ordinary personal injury claims. The Kentucky courts allow recovery for both the decedent's losses and the surviving family members' losses. The decedent's damages are similar to those he or she might have been able to seek recovery for had the incident not resulted in death. These can include the deceased person's medical bills, lost wages, property damage, and pain and suffering up till the time of death. Additional compensation for family members can include damages such as:
Funeral and burial costs
Attorney's fees and court costs
Mental anguish
Loss of the decedent's company, support, love, care, and guidance
Lost inheritance and future earnings of the deceased
Medical Malpractice in Louisville Wrongful Death Cases
When a person is sick or gets in a serious accident, they count on professional medical staff to take the appropriate steps to give them the care they need and to advise them on how to care for themselves to overcome their ailment. Unfortunately, many lives fall through the cracks, and as a result 1000,000 people die every year because of medical malpractice. Wrongful death malpractice happens in many different ways including:
Common Types of Medical Malpractice That Cause Wrongful Death
Receiving the wrong medication or an improper dose
Surgical errors
Inadequate psychological care that leads to suicide
Failure to diagnose a disease while it still can be treated successfully
In most cases, it is the family of the deceased that has the first inkling that something went wrong with the care of their loved one. They know that nothing can bring their family member back, but they are still suffering emotionally, and often financially because of their loss. This is when it's time to talk to a Louisville medical malpractice lawyer.
Evidence in a Wrongful Death Lawsuit with Medical Malpractice
Consulting with a physician and medical experts to determine the medical validity of the claim
Reviewing the medical records of the deceased person
Examining an autopsy report in cases where it is available
Because a medical malpractice suit, particularly one involving a wrongful death can make a big impact on a person's medical career, it is important to build a strong case and determine that negligence actually occurred. These are the same reasons why it is important that those cases are pursued when they are valid. Doctors, nurses, and other medical professionals have a major responsibility to their patients, and their mistakes can come with a high price. While the magnitude of that responsibility encourages close attention to detail as they do their jobs, the possibility of a medical malpractice suit is one more thing that helps keep medical professionals on their toes and helps them to continue to heal people each day.
Financial Impact of a Wrongful Death Loss in Kentucky
Each case is specific, however, and requires sensitivity and thorough examination. In addition to determining that there was negligence in a medical case, it is also important to reveal the financial impact of a loss. Some things that are examined are:
Medical bills
Wages lost
Household care expenses
Future wage and care expenses
Grief counseling
Pain and suffering
Funeral expenses
Even the best settlement won't ever replace a loved one who has passed away before their time due to negligence, but the knowledge that those involved are being held accountable as well as the financial relief granted can make a real impact on a family's ability to move on.
What Is The Statute of Limitations to File a Wrongful Death Claim in Kentucky?
As with every other state in the country, Kentucky has specific laws in place dictating how long individuals have to file wrongful death lawsuits. However, Kentucky has two separate deadlines in place that individuals and the personal representative of the estate need to be aware of.
One Year. In Kentucky, the deadline for filing a wrongful death lawsuit is one year from the date that the deceased's personal representative is appointed, or
Two Years. If the personal representative is appointed more than one year after the date of death, then the wrongful death statute of limitations is two years from the date of death. 
It is crucial for the estate of the deceased to file these claims on time. Failing to file a wrongful death claim within the proper time limit will result in the estate and the surviving family members becoming unable to recover any compensation for their losses.
In addition to the wrongful death statute of limitations set forth under Kentucky law, we must also keep insurance carrier deadlines in mind. Most wrongful death claims in Kentucky will be resolved through settlements with insurance carriers. 
However, insurance carriers also have their own deadlines in place when it comes to reporting claims. If you know that there will be an insurance carrier involved in the case, we encourage you to at least report the death to them as soon as possible. You do not need to go into much detail when you make an initial report. All they need to know is that the death occurred and your contact information. You can let an insurance carrier know that you have obtained legal assistance, and any further communication needs to go through your legal counsel.
Are There Any Exceptions To This Wrongful Death Time Limit?
There are some cases where the wrongful death statute of limitations in Kentucky will be shorter than the deadlines mentioned above and instances where the statute of limitations will be longer.
If you are going to file a claim against a government entity, employee, or agency in Kentucky, then you will have a shortened amount of time to file these claims. Typically, claims against state, county, or city governments in this state must be made within 12 months from the date of death. 
There are some situations where the court may agree to extend, or toll, the wrongful death statute of limitations beyond two years. The most common situation is if a person lost their life as a result of another individual's criminal actions. If the state government is currently prosecuting a person in a criminal case, the civil court could agree to pause the deadline until the date the criminal case concludes.
Additionally, if a person's estate does not go through the probate process, then the individuals involved will have an additional five years to file a wrongful death claim in court.
We strongly encourage you to reach out to a skilled wrongful death lawyer in Louisville, Kentucky, to understand these deadlines more in-depth. It is crucial to file your claim on time and appropriately in order to recover the closure and compensation you are entitled to.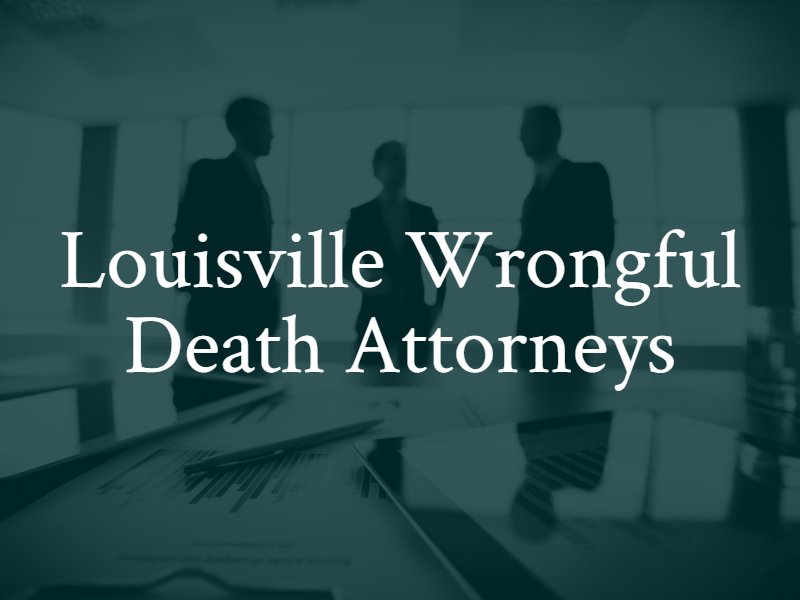 How Long Can Wrongful Death Cases Take in Kentucky?
There is no set amount of time that it takes a wrongful death claim in Kentucky to conclude. There are various factors that go into how long it takes for these claims to commence, go through the entire litigation process, and reach a settlement or jury verdict.
The vast majority of wrongful death claims in Louisville, Kentucky, are resolved through settlements with insurance carriers. When settlements occur, this typically means they happen faster than an overall lawsuit would take if it went to court. However, the timeframe for settlement negotiations can still be drawn out for a year or more. In the event the at-fault party still refuses to offer a fair settlement, or if they deny the claim, it may be necessary to file a civil wrongful death lawsuit and take the claim to court.
When a case officially goes through the court system, it will begin with the discovery process. This is when both sides, the plaintiff and the defendant, will exchange information with one another. Investigation into the incident will continue, as will negotiations towards a fair settlement. If the two sides can still not reach an agreement, it will be necessary to take the case to a jury. Jury trials for a wrongful death claim often do not take place for years after the initial incident occurs.
How Much Does a Wrongful Death Attorney Charge?
Individuals often worry about how they will be able to afford an attorney after losing a loved one. This is an incredibly difficult time for a family and for the estate of the deceased. However, there is good news when it comes to affording an attorney for these claims. 
A skilled personal injury lawyer and wrongful death lawyer in Kentucky will often take these cases on a contingency fee basis. This means that the estate and family members will not have to pay anything out of their own pocket or upfront for the case. When operating under a contingency fee, an attorney will only collect legal fees after they successfully recover the compensation the estate and family is entitled to. If the attorney does not win the case, the family and the estate will not pay any legal fees at all.
The contingency fee will be agreed upon before an attorney commences the wrongful death claim. Contingency fees can range anywhere from approximately 25% to 40% of the overall settlement, though the total contingency fee typically falls around the 33% range. This may seem like a high amount to pay for attorney fees, but the reality is that individuals who use a wrongful death lawyer often recover much more compensation than they would otherwise have received had they tried to handle the claim on their own.
Contingency fees help ensure that individuals, regardless of their income level, are able to afford legal assistance when working to recover compensation on behalf of their loved one.
There is currently no cap on the amount of compensation a family or personal representative can receive for wrongful death in Kentucky. If you lost a loved one in a Kentucky car crash, using one of our Louisville accident lawyers to bring your lawsuit for you will help you get maximum compensation for the irretrievable loss of life.
Contact our Louisville wrongful death lawyers within one year of the date of your loved one's death (statute of limitations) to discuss the possibility of a wrongful death lawsuit. We are compassionate lawyers who want the best for your family during a dark time. Let us help you after a devastating fatal accident in Kentucky.