Louisville Truck Accident Attorney
Truck accidents have the potential to cause serious, and sometimes fatal injuries. Large and heavy commercial trucks can completely obliterate smaller passenger vehicles and can inflict massive amounts of damage on the other vehicles. A trucking company and truck driver have the duty to ensure preventable accidents never happen.
When they fail, victims in Louisville may have the opportunity to file a truck accident claim to recover compensation for their damages. Here, we'll explain the common causes of truck accidents in Louisville, who may be liable, and types of compensation you may recover from your accident.
If you're in search of an experienced and trusted Louisville truck accident attorney, contact our office today to schedule a free consultation. Our experienced team of Louisville car accident lawyers can help guide you towards your best legal options and let you know if you have a case.
Louisville Truck Accident Legal Resources:
What are Common Causes of Truck Accidents in Louisville, KY?
Distracted Drivers
Large trucks need much more time and distance to maneuver the roads than an average car. It is typical for distracted driving to occur when truck drivers spend long amounts of time behind the wheel.  A driver who is distracted or falls asleep at the wheel can cause a disastrous accident, given the weight and momentum of such a large vehicle. A distracted passenger vehicle could also be the cause of a car accident.
Bad Road Conditions
Road debris, unpaved roads, potholes, narrow lanes or highways without shoulders are all examples of dangerous road conditions that can lead to trucking accidents.
Truck Vehicle Malfunction
Improper revision of a big rig could result in incidents like a tire blowout, wheels coming loose, engine failure, and more. Depending on the case and what occurred, the manufacturer or truck company may be liable for the accident.
Blind Spots
Drivers may not realize when driving behind a large truck that the driver can't see your vehicle a lot of the time. If you're in a truck driver's blind spot, he or she may have limited or no vision of you at all.
Drowsy Driving
Truck drivers that drive while drowsy can contribute to unsafe conditions. Although there is a maximum amount of time a driver is allowed to legally operate a commercial truck, sometimes drivers drive past the limit.
How Dangerous is Tired Driving?
Driving while drowsy is much more precarious than many people realize. According to the National Safety Council (NSC) the dangers of driving drowsy are "similar to driving under the influence of alcohol".
In fact the impact of drowsiness on driving greatly reduces the drivers' reaction times and attention to possible hazards. If a driver has not slept in eighteen hours, that individual had an impairment similar to a driver with a blood alcohol concentration (BAC) of .05. At twenty hours that driver has a BAC of .08 and at twenty-four hours without sleep, a sleep deprived individual will have a similar reaction time to that of a legally drunk driver with a BAC of .10. In the State of Kentucky, the legal limit for BAC is .08
Based on a study performed by the National Sleep Foundation, roughly 50% of American adult drivers have admitted to regularly driving while feeling drowsy. Additionally more than 20% of drivers admit to falling asleep behind the wheel in the last year and more than 40% admitting to falling asleep behind the wheel at some point in their lives.
Do Truck Drivers Drive While Drowsy?
Driving while drowsy is incredibly dangerous in a passenger vehicle, however when an operator of a large big rig truck drives tired, the dangers can be compounded. Due to the sheer size, weight and slower brake time of large vehicles, commercial truck drivers can react slower than an aware and attentive individual otherwise would. Even a minor delay in reaction time can prove to be incredibly dangerous for trucks and passenger vehicles within close proximity of the big rig.
Although there are federal regulations that mandate the maximum amount of time an individual can drive there are truck accidents that have been caused by drowsy driving. According to the Federal Motor Carrier Safety Administration (FMCSA), the amount of trucking accidents caused by commercial motor vehicle drivers that were fatigued at the time of the crash accounted for 13% of truck accidents.
 Are There Distracted Driving Penalties For Truck Drivers?
Driving a truck distracted is not only incredibly dangerous but also carries stiff penalties for perpetrators that engage in distracted driving. The FMCSA  restricts the use of mobile phones and texting while driving to help curb commercial vehicle drivers from distracted driving.
Truck drivers that violate the hand-held and/or texting while driving rules risk civil penalties up to $2,750 and possible driver disqualification for multiple offenses. If a truck company requires the truck driver to utilize a mobile phone while driving, civil penalties for the company can include fines up to $11,000.  These penalties are intended to help minimize and discourage truck drivers and trucking companies from engaging in risky distracted driving behavior.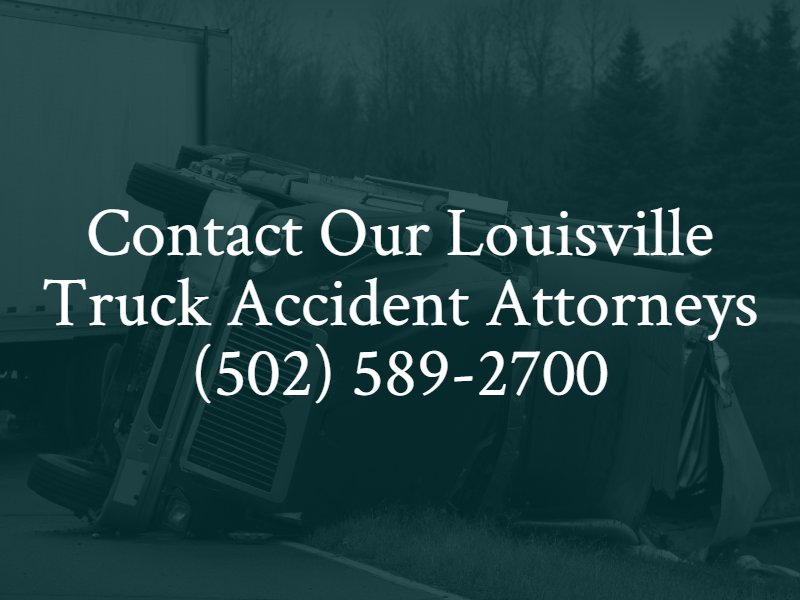 How Long are Commercial Truck Drivers Legally Allowed to Drive For?
The FMCSA has outlined regulations pertaining to time limits for commercial vehicles. For property-carrying drivers, there is an eleven hour driving limit after ten consecutive hours off duty.
Additionally, a commercial vehicle operator is not allowed to drive, "after 60/70 hours on duty in 7 / 8 consecutive days. A driver may restart a 7 / 8 consecutive day period after taking 34 or more consecutive hours off duty."
What are Common Injuries that Occur From Truck Accidents?
Accidents involving trucks can be much more devastating than those that involve only passenger vehicles. Due to the sheer size and force of an eighteen wheeler, personal injuries resulting from these types of accidents can be much more life-altering. Some of the most common injuries involving truck accidents are:
Broken Bones – Broken bones occur frequently during motor vehicle accidents. This is especially true when the other vehicle involved in the accident weighs in excess of 35,000 pounds.
Traumatic Brain Injuries – Head trauma and traumatic brain injuries can occur in a truck accident. These injuries can be life-altering and impact the future earning capacity of a victim. Traumatic brain injuries are wide ranging and each injury can be unique to its own case. Traumatic brain injuries can range from concussions to life-long damage for a victim.
Spinal Cord Injuries – Injuries involving the spinal cord can be life-altering. Some of these injuries sustained can cause lifelong mobility issues and, in some cases, lead to paralysis. If you believe you have suffered a spinal cord injury, seek medical attention immediately. Internal Injuries – When blunt trauma occurs to the abdomen region, internal organs can rupture and internal bleeding may occur. After any accident, always seek medical attention and be honest about any symptoms or pain.
Wrongful Deaths – In the worst cases involving truck accidents, death may occur. If your loved one has suffered a death resulting from a truck accident, please accept our condolences.
What Is the Time Limit to File a Truck Accident Claim in Kentucky?
In the Commonwealth of Kentucky, there is a time limit for victims involved in accidents that involve personal injuries. This time limit, legally known as the Statute of Limitations, is two years from the date the accident occurred, or two years after the last payment of no-fault insurance benefits were made to the injured party. 
While the two year time limit exists for injured victims to file a civil lawsuit against a defendant, it is strongly advisable to consult with an experienced Kentucky car accident victim as soon as possible after an accident occurs. The longer a victim waits, the less detail the injured party can remember about the specifics of the case. After seeking medical treatment, contact an experienced truck accident attorney in Louisville to discuss your case. An attorney can advise victims on their case and file all the necessary paperwork in the allotted time.
How do Truck Accident Lawyers Prove Negligence in Kentucky?
Trucking companies will do everything they can to avoid liability for an accident and are known for their quick and aggressive representation in support of the trucking company. Their lawyers might try to use a comparative negligence defense, arguing you contributed. At Meinhart Smith & Manning, PLLC we know all too well that many injury and wrongful death claims have more than one defendant, or party, allegedly responsible. There are many factors that can contribute to a single trucking accident, and many parties behind these factors. A big rig driver, trucking company, cargo loading team, truck owner, truck leaser, third-party driver, part manufacturer, and/or other parties could all be liable for a crash. The party or parties that will serve as the defendant(s) in your case will be the one that fulfills all three of the following elements:
Owed you a duty of care
All truck drivers owe others on the roadway duties to pay attention to the road, obey federal motor carrier laws, follow traffic rules, and otherwise take due care in preventing accidents. At the same time, trucking companies are responsible for maintaining their fleets, training truck drivers, and planning safe routes. The duties of care the defendant owed you at the time of the crash will vary according to the relationship.
Breached this duty of care
The defendant must be guilty of some breach of duty of care to you. A breach of duty can be a broken law, such as driving under the influence of drugs or alcohol, or an act of negligence that a prudent person or company would not have committed. Proving a breach of duty, or negligence, is often the most difficult and critical part of a trucking accident lawsuit.
Negligence caused your trucking accident
You must show that the truck driver or company's act of negligence is what caused your accident. If a third-party driver, for example, hit the truck and then bounced into your vehicle, you likely would not have a lawsuit against the truck driver, who is just an other victim in the collision. Instead, you would sue the other driver in this scenario. To be eligible for compensation, you must also show that you suffered real damages in the trucking accident. In Kentucky, economic and non-economic damages are both compensable. These can include past and future medical bills, physical pain and emotional suffering, property damage, and lost wages. The experienced injury lawyers at our Kentucky law firm can help you identify the responsible parties for your trucking accident, and help you take action against them.
UPS Accidents in Louisville
Moving mail and packages from point A to point B is a fairly simple process, but what happens when the focus of a company becomes moving a package from point A to point B within a specific amount of time? The answer to that question is that the concern for safe driving practices diminishes as time becomes more critical. In 2011, the National Highway Traffic Safety Administration listed a 20% increase in fatalities involving large commercial vehicles and a 15%increase in injuries involving large commercial trucks on our national highways. The National Highway Traffic Safety Administration also provides data on fatalities per 100,000 people and Kentucky has 16.50 fatalities per 100,000 whereas the national rate of fatalities per 100,000 people is only 10.39.
In Louisville, Kentucky, the World Port is a product of efficiency and with efficiency comes the constraint of time. UPS processes 130 airplanes each day through the World Port, which then sorts 416,000 packages per hour. Those packages are shipped out by vehicles all headed to a specific processing center under the constraint of time. Not all semi accidents that occur in Kentucky involve UPS trucks. Data is not available to show that percentage; however, UPS accidents and fatalities are increasing in Kentucky. If you were involved in a UPS accident, contact a Louisville truck accident lawyer.
What has Brown Done To You?
The World Port under its last expansion grew in size to about 90 football fields. The increased traffic on local and state highways has increased. Injuries that occur in traffic accidents that involve UPS vehicles are often serious if not fatal. The standard passenger car weighs about 2500 pounds, which is 2.5 tons. A fully loaded UPS vehicle can weigh as much as 40 tons.
It does not take much of an imagination to visualize what happens when a 40 ton vehicle collides with a 2.5 ton car. Even still, there are several types of accidents that occur with commercial vehicles. We have all heard of jackknife truck accidents, but maybe, not about the carriage under-ride accidents, or even a roll over accident.
UPS Jackknife Accidents
Jackknife accidents occur because of how big rig cabs are connected to their trailer. The cab basically stops under extreme breaking, but the trailer continues its forward momentum and swings out causing the trailer, and sometimes the cab, to be flipped on its side. At this point, that is a jackknife accident. If the jackknife accident occurs while the cab is still moving, the accident can change into a rollover accident where the cab and the trailer continue to turn over until the energy from the crash is insufficient to continue the rolling process.
Carriage under-rides accidents occur when a vehicle comes into contact with the trailer and becomes trapped. The vehicle can be drug along with the trail or ejected. This type of accident can lead to jackknifing and roll-over accidents too.
Regardless of the accidents, injuries and fatalities are usually significant, if not catastrophic. In addition to just the increased risk of  accidents because of time constrains, there are other causes of accidents that can all lead to injury. Simple equipment malfunctions such as brake failure or tire blow outs can cause a UPS vehicle to lose control. Drivers who are tired, drunk, or on drugs can, and do lead to accidents. Blind spots or no-zone, which prevents a commercial driver from seeing other vehicles around their truck, can also lead to accidents such as Carriage Underside accidents. There are also instances when the planned route is not appropriate for delivery vehicles etc. can all lead to accidents.
Any of these situations can have a significant impact on people who are involved in accidents with UPS. The complex laws that dictate how people are compensated for injuries, or how a surviving family is compensated for the loss of a family member should be handled by a Louisville personal injury attorney.

What Damages Can I Recover After a Truck Accident Injury?
Truck accidents can cause serious, life-altering injuries. The damages caused from a truck accident can impact not only the victim, but also their loved ones. Damages after a commercial truck accident can compensate plaintiffs for physical, emotional and pain and suffering damages can be recovered.
In Kentucky, compensatory damages are broken down into monetary losses and non-monetary losses and in malicious scenarios, punitive damage .
Monetary Damages
Compensatory damages, also known as monetary losses, include damages that are easily calculated. Some of these types of damages include:
Medical bills –

Can cover costs associated with previous, ongoing and future medical care and rehabilitation for future estimated expenses. 

Lost wages –

If an injured victim is unable to work after an accident, the victim can be compensated for this loss of earning capacity. These wages can be paid out as long as the victim is unable to work.

Property Damage –

Individuals that have suffered property damage in an accident can be compensated a fair market value for the value of the property. If a vehicle is totaled as a result of 

Funeral Expenses –

In the event of a fatal accident, surviving members of the fatally injured individual can recover compensation for funeral expenses. 
Non-monetary Damages
Non-monetary damages are more complex and difficult to calculate compared to monetary damages. Common types of non-monetary damages include:
Pain & Suffering

– Compensation attributed to physical pain, emotional pain (including anxiety, post-traumatic stress disorder), permanent scarring and/or disfigurement can be reflected in non-monetary damages 

Loss of Consortium

– Damages for loss of consortium reflect the loss of emotional and physical support after an accident. These damages include the loss of companionship, assistance and sexual relations. 
Punitive Damages
Punitive damages for injuries in truck accidents are intended to punish the at fault individual from engaging in future negligent and malicious behavior. These damages are relatively rare but can occur in truck accidents if reckless or egregious behavior is identified. If a vehicle operator is found to be operating under the influence of drugs or alcohol, punitive damages may be awarded to a victim.
How Much Does it Cost to Hire a Truck Accident Attorney in Louisville, KY?
At Meinhart, Smith & Manning, PLLC,, our Louisville truck accident lawyers work on a contingency fee basis. This means individuals that have fallen victim to a truck accident injury only pay for our legal services if the case is won. 
When truck accident victims have suffered injury as a result of another's negligence, that entity needs to be held responsible for the pain, suffering and damages caused in the accident. At Meinhart, Smith & Manning, PLLC our firm takes cases on a contingency fee basis. Simply put we do not charge up-front fees for the legal services. Our attorneys collect the fees after compensation is recovered.
Who Can Be Held Liable For a Truck Accident?
Every case involving injury has its own set of unique circumstances and facts, depending on the facts of each case, a person, company or government entity may be found responsible for the damages suffered by a victim.
A truck driver may be at fault if the driver was impaired while driving a semi truck. A Trucking company may also be named in a case if the truck accident occurred as a result of a negligent driver, negligent training or behavior,  or a mechanical issue or failure.
Although it is legal to pursue damages against the State Government of Kentucky, only certain types of claims can be filed against the State. Claims against property damage, auto accidents, premise liability and medical malpractice claims can be filed against the Kentucky Government. However pain and suffering, or claims of mental distress cannot be made against the State Government of Kentucky.
To better help understand who may be held responsible for the injuries sustained in a truck accident, contact the injury attorneys at Meinhart, Smith & Manning  PLLC for a free consultation.
Our skilled Louisville truck accident attorneys will work tirelessly to ensure truck company insurers don't take advantage of you or convince you to settle for less than your case is worth. Call (502) 589-2700 to discuss your recent truck crash with one of our Louisville personal injury attorneys, or request a free case evaluation online.