Louisville Bair Hugger Attorney
For years, hospitals used Bair Hugger Therapy warming systems to help regulate patients' body temperature during orthopedic joint replacement surgeries for hips and knees.
But research has raised concerns that the warming devices may raise the risk of infection at a higher rate than other methods. The product's inventor also has asserted that the product is flawed, and some patients who developed infections have filed legal claims against 3M, the maker of Bair Hugger Therapy.
How Does Bair Hugger Therapy Work?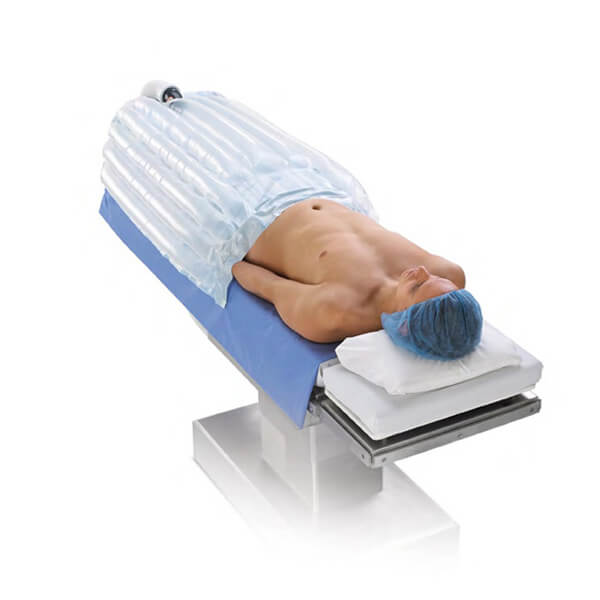 Hospital medical personnel use the Bair Hugger warming blanket during long surgeries, when patients' body temperatures are most likely to decrease due to lengthy periods of anesthetization and immobility. The device, which uses forced, warmed air, is intended to produce better outcomes from surgery by stabilizing core body temperature and diminishing the risk of blood loss.
However, the system also produces an unintended effect: It alters air flow in operating rooms, which can allow bacteria off the floor to get into surgical wounds. Studies have indicated that using such warming blankets can significantly increase the number of particles in the air of an operating room, which can lead to dangerous infections of a hip or knee following replacements of those joints.
The Bair Hugger system — which includes warming units, blankets and accessories — was invented by Dr. Scott D. Augustine. He initially sold the devices through his own company, Augustine Biomedical and Design.
Since Augustine introduced the system in 1988, it has been used with some 180 million patients and remains in use in more than 80 percent of U.S. hospitals. Multinational conglomerate 3M purchased the system's manufacturer, Arizant, in 2010.
During surgery, nearly all patients display subnormal body temperature because they lose heat faster than the body can produce it. Hypothermia can result in complications like infections, bleeding and longer stays in the hospital.
The Bair Hugger system forces filtered, heated air through a blanket — which uses the patient's pressure points to ensure that the heat does not cause burns or pressure sores. In addition, the blankets allow fluid to pass through the surface and out drain holes to lower the risk of lost heat through evaporation and resulting cooling.
To lower the chances of infections, the blankets are disposable.
What Is the Danger Posed by Bair Hugger Therapy?
Dr. Augustine has warned of problems with his invention since he resigned in 2002 as chief executive and chairman of Arizant, the former maker of the Bair Hugger system. Augustine believes the therapy can spread dangerous bacteria during the process of orthopedic surgery.
He has noted that despite his pride in his invention, he is eager to get the word out about the problem with the system.
The current manufacturer, 3M, disputes that the device can cause problems, citing 170 studies that found a benefit from using warming by forced air for keeping body temperatures at normal levels. However, the doctor contends that the studies did not specifically look at the use of the device in orthopedic surgeries.
Augustine believes Bair Hugger Therapy should not be used during surgery, and especially not during joint replacement surgery, because it can spread infection-causing bacteria. He says research has shown that the device can increase the rate of infection in surgery.
Some doctors agree with Augustine about the risk of using the device during orthopedic surgeries or other types of surgery that include implants, which have a high danger of contamination.
Legal Action Related to Increased Infection Risk
The maker and marketer of the device, 3M, argues that Augustine is simply being alarmist and that his claims are based on flawed studies that fail to provide conclusive evidence of an increased risk of infection.
However, in 2015, a patient from Michigan filed a legal claim against 3M and Arizant Healthcare, Inc. The man alleges that the Bair Hugger device caused a serious infection in his hip and required immediate medical attention and the removal of his hip implant.
The serious infection required three additional surgeries, including the necessary removal of most of the patient's thigh muscle. The patient alleges that the Bair Hugger device caused permanent injuries.
In another case, in Texas, a patient alleged that the device caused a similar infection during a hip replacement. The patient required two more surgeries in nine months and was seriously harmed in the process, the lawsuit alleges.
Work with Experienced Attorneys
Litigation related to the Bair Hugger devices is ongoing, with claim settlement and future remedial efforts in progress. The negligence of 3M in continuing to manufacture and market a dangerous product has significantly harmed patients, who have been categorized in "tiers" according to the seriousness of their injuries. Settlements are being negotiated based on the long-lasting harm to patients' mental, physical and emotional health.
If you or a loved one have been harmed by medical malpractice or a faulty medical device, it's vital that you work with experienced attorneys to ensure that you receive the compensation you deserve. The attorneys at Meinhart, Smith, & Manning, PLLC, have years of experience with medical cases and are dedicated to protecting your interests. For a free consultation to discuss your case, please contact us today.