Louisville Nursing Home Abuse Attorney
The idea that a nursing home facility or its staff members could intentionally inflict harm upon the vulnerable elderly is a difficult truth to come to terms with. Unfortunately, nursing home abuse cases and negligence are more common than we'd all like to believe. Our Louisville nursing home abuse lawyers offer high quality legal representation to fight against the at-fault party or parties and seek compensation for punitive damages.
The Louisville personal injury attorneys at Meinhart, Smith & Manning, PLLC has the expertise, resources, and compassion to take your family services claim where it needs to go.  Trust the skilled legal team at our law offices to protect your elderly family members from future elder abuse. Call the Louisville nursing home abuse attorneys at our Kentucky law firm today to schedule a free, noncommittal case evaluation.
Louisville Nursing Home Abuse Resources
Why Choose Us?
Serious injuries to the spine requires serious legal representation well-versed in handling these types of complex cases. The spine injury lawyers at our firm have helped recover damages for injured victims and our decades of combined legal experience has created well-versed negotiating with the insurance companies and litigating injury trials.
Our firm has helped secure multiple six and seven figure settlements and we're here to help victims recover damages for what was lost from another individual's negligent actions. Our firm also provides:
Free consultations – If you have questions about whether or not you have a case for the injuries suffered, our lawyers can help you understand the value of your claim during an initial consultation.
Contingency fee pricing – If our law firm does not recover damages in a settlement or verdict for your injury claim, injured individuals will pay nothing for our services. Simply put – no win, no fee.
We can travel to you  – The attorneys at our law firm can travel to injured individuals that are unable to come to our office.
What Is Nursing Home Abuse and Nursing Home Neglect?
Nursing home abuse, or elder abuse, is the violation of the vulnerable elderly population by means of physical, emotional, financial, or sexual abuse or exploitation. A nursing home or other long-term living facility has an obligation to care for each resident's physical, emotional, and psychosocial well-being. If the facility or one of its employees fails to do this by way of neglect or outright abuse, it is in violation of the law and could be liable for the victim's harms. This can include medical bills, emotional distress, and more. Be sure to contact a Louisville nursing home abuse lawyer to help you navigate the legal process.
The different types of elder abuse are as follows:
Physical abuse. Intentionally physically harming a nursing home resident for any reason. Look for signs such as odd-shaped bruises, slap marks, restraint marks, unexplained injuries, frequent trips to the hospital, burns, malnutrition, dehydration, bite marks, medication errors, and lack of proper sanitation or an unkempt appearance.
Mental/emotional abuse. When an employee verbally abuses a resident or does something to intentionally cause him or her emotional/mental distress. This can include ignoring the resident and their personal hygiene, berating him/her, humiliating him/her, forcing him/her to sit in a dirty adult diaper, withholding food or medications, etc. Look for red flags such as depression, anxiety, or withdrawal from normal social activities.
Sexual abuse. This includes taking advantage of an elderly person's physical or mental incapacitation to force him or her to perform or engage in sexual acts. Look for signs such as pelvic or genital injuries, sexually transmitted diseases, trouble walking, bruising of the upper thighs, bloodied undergarments, or behavior changes such as guilt or depression. Our family members should not have to tolerate sexual assault of any kind.
Financial abuse. Financial exploitation can take the form of defrauding the nursing home resident, taking advantage of a position of trust, or forcing the elderly person to give money or gifts through other means, such as another type of abuse. Look for unexplained or unusual changes in your loved one's bank statements or financial situation.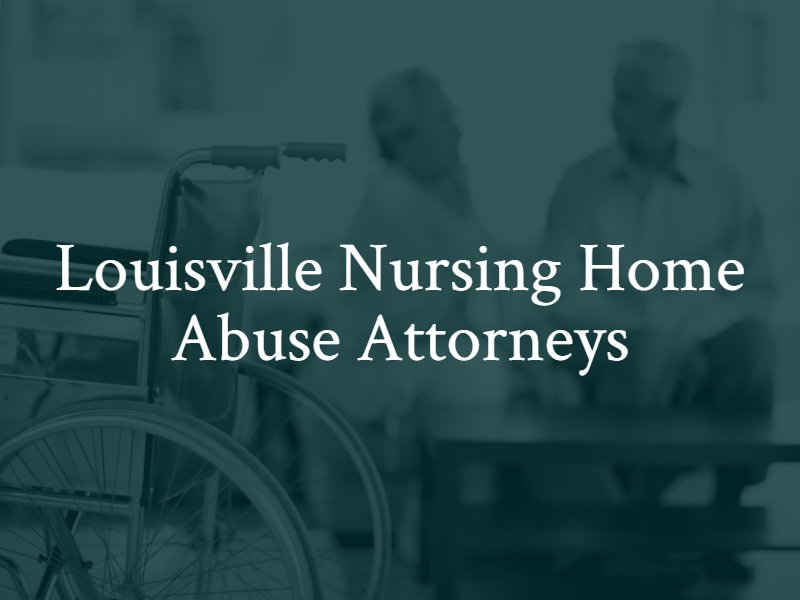 What are Common Signs of Nursing Home Abuse?
The signs and symptoms of nursing home abuse will look different depending on what type of abuse has occurred. For example, the signs displayed for physical abuse may differ from the signs a person displays for emotional and psychological abuse. However, there are various signs and symptoms that family members and friends should be on the lookout for at all times period the following could all indicate various types of abuse:
Physical abuse warning signs. Physical abuse warning signs are often the most obvious and include:

Pressure or bed sores
Bruises, burns, or welts
Lacerations or skin tears
Broken or dislocated bones
Dental or head injuries
Recurring illnesses or infections
Lack of personal hygiene
Sudden weight loss
Malnutrition or dehydration

Emotional abuse warning signs. Emotional abuse signs and symptoms are often harder to detect but can include:

New changes in behavior or mood
Depression or anxiety
Lowered self-confidence or sense of self-worth
New onset aggressive or violent behavior
Substance abuse issues
Symptoms of PTSD
Suicidal thoughts or actions

Neglect warning signs. Neglect occurs when the nursing home staff fails to uphold their duty of basic care for residents, and signs of neglect will look similar to physical and emotional abuse warning signs, including bed sores, dehydration, poor hygiene, unchanged linens, dirty clothes, and more.
Sexual abuse warning signs. Sexual abuse can include the same size and symptoms as physical and emotional abuse, but some additional issues can include welts or bruising around the genital area and unexplained STDs.
Financial abuse warning signs. Financial abuse signs can include changes in bank account statements, assets suddenly disappearing, changes in power of attorney, opening new bank accounts or credit cards, and strange transactions.
What Damages Can Victims Recover After Nursing Home Abuse?
Victims of nursing home abuse in Louisville should be able to recover various types of compensation if their claim is successful. Our lawyers work diligently to recover economic damages and non-economic damages on behalf of all nursing home abuse victims and their family members. This includes calculable losses such as medical bills, physical therapy or rehabilitation, payment to move from one facility to another, legal figures, etc.
However, a major part of compensation recovery revolves around more immeasurable losses, or non-economic damages. These types of losses are not as easily calculable because there may not be bills or receipts to help us determine a nursing home abuse victim's level of physical, emotional, or psychological pain and suffering. The abuse a person endures can lead to this internal trauma that can cause sleeplessness, fear, anxiety, and post-traumatic stress disorder (PTSD).
There is no set amount of compensation paid to nursing home abuse victims in Louisville. Rather, insurance carriers or personal injury juries will examine various factors related to compensation amounts. These factors can include the severity of the abuse or injuries that occur, how long the abuse lasted, the egregiousness of the violations of the nursing home or employee, and the total level of pain and suffering. Our lawyers will work with trusted medical and financial experts to help adequately calculate total losses.
How Much Time Do I Have to File a Nursing Home Abuse Case in Kentucky?
After physical, emotional, financial or sexual abuse of a nursing home resident occurs in Kentucky, (KRS) §413.14(1)(a) the victim has one year to file an injury claim against the defendant in question.
The State of Kentucky has one of the shortest time limits for injuries in the United States so claims against perpetrators of nursing home abuse should be made as soon as possible against the abusive party to avoid a time lapse of the statute of limitations.
As someone with a family member in a Louisville nursing home, be constantly on the lookout for potential signs of nursing home negligence and elder abuse by nursing home staff. Nursing home abuse happens more often than most people realize and is widely underreported. Do not wait for your loved one to report abuse, as this may never happen. Watch carefully for red flags and notify nursing home authorities or the police as soon as you suspect abuse, neglect, or exploitation of any nursing home residents. Then, contact a Louisville nursing home abuse attorney from Meinhart, Smith & Manning, PLLC.
We can help you go up against nursing homes in personal injury cases or wrongful death claims, preventing further abuse of our loved ones in Louisville's nursing homes and care facilities. If you have additional questions or concerns, contact our Louisville nursing home abuse attorneys for a free consultation and legal advice regarding abusive behavior in a Louisville care facility.