Jury Awards Man Injured by Commercial Truck More than $12 Million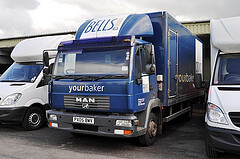 Marlin Michael Bradway arrived at the Birds Eye facility in Walworth County, Wisconsin Feb. 6, 2009. Birds Eye Foods is a company that has product lines encompassing, fruits, vegetables, canned meals and snacks. The company markets its products to food retail stores nationwide. Bradway was not an employee of Birds Eye per se, but worked for a company that Birds Eye hired to service their loading docks.
Bradway Arrives at Birds Eye Facility
Upon his arrival, Bradway observed a Frozen Food Express trailer and truck parked at one of the loading docks that he was hired to inspect. Prior to beginning his inspection, Bradway ensured that the trailer and truck were out of commission and that the driver was absent. He also scanned the area to see if the driver was anywhere within the vicinity of the truck. Once satisfied that the driver was not present, Bradway began his inspection of the dock.
Driver Neglected to Perform Required 'Walk-Around'
Bradway claims that while he was inspecting the dock the driver neglectfully backed up toward the dock and crushed him numerous times between the trailer and loading dock wall. Bradway and his counsel claim that the driver was negligent because he ignored the requirement to conduct what is referred to as a 'walk-around' to check the area surrounding the truck and trailer. Because of this, Bradway states he had no warning that the driver was about to put the truck into motion.
Life-Long Injuries Affecting Bradway's Quality of Life
Bradway's midsection and pelvic area received severe injuries that required extensive medical treatment. He was admitted to the hospital because his urethra, pelvis and intestines had to be repaired. He also underwent rehabilitation. Because of this accident, Bradway has permanent injuries that will affect the quality of his daily life.
The Verdict
On Feb. 27, 2014, a Milwaukee County Circuit Court jury found in favor of Bradway. The jury agreed that Frozen Food Express and its driver did contribute to Bradway's injuries. Court documents state that Frozen Food Express Industries neglected to train their commercial truck driver properly. The jury also found the driver negligent in his operation of the truck. Bradway received a verdict of $12.3 million. However, the jury did reduce that amount by 30 percent ($3.6 million deduction) stating that Bradway was also to blame for the accident. After the reduction, this gives Bradway $8.6 million. Bradway's wife received $3 million for her loss of intimacy. If you have been injured due to the negligence of another, contact the Louisville truck accident lawyers at Meinhart, Smith & Manning PLLC for your free consultation. You deserve to receive compensation for lost wages and medical bills related to your injuries.
Photo Credit: Raymondo166 cc