Do I Have to Go to Court After a Car Accident in Kentucky?
If you or somebody you care about has been involved in an accident caused by the careless or negligent actions of another person in Kentucky, you may be wondering whether or not you will have to go to court. The reality is that vehicle accidents can be resolved in a variety of ways. This can include settlements with insurance carriers or taking the case to trial. Here, we want to discuss what factors influence the track and outcome of a car accident case in Kentucky. One of the most important factors to remember is that these cases can become complicated, and it may be necessary to seek assistance from a skilled Kentucky car accident lawyer to ensure you receive maximum compensation.
Will Your Case Be Settled Before It Goes to Court?
According to the Kentucky Department of Transportation, more than 158,000 total vehicle collisions were reported across the state during the latest reporting year. The reality is that most of these cases were resolved through settlements with the necessary car insurance company before a lawsuit was even filed. In general, any compensation awarded in a car accident case in Kentucky will be decided between the insurance carriers of the victim and the alleged negligent party. In the event that neither side is able to reach a fair agreement, it may be necessary for a Kentucky car accident victim to file a lawsuit in civil court against the alleged negligent party. When this occurs, the case will have officially entered the court system. However, even after a lawsuit has been filed, most vehicle accident settlements are resolved before the case is heard in front of a jury. The attorneys for the plaintiff (the injured victim) and the defendant (the alleged negligent party) will typically negotiate with one another while they are preparing the case for trial. Only after negotiation attempts fail will it be necessary for a case to go to trial.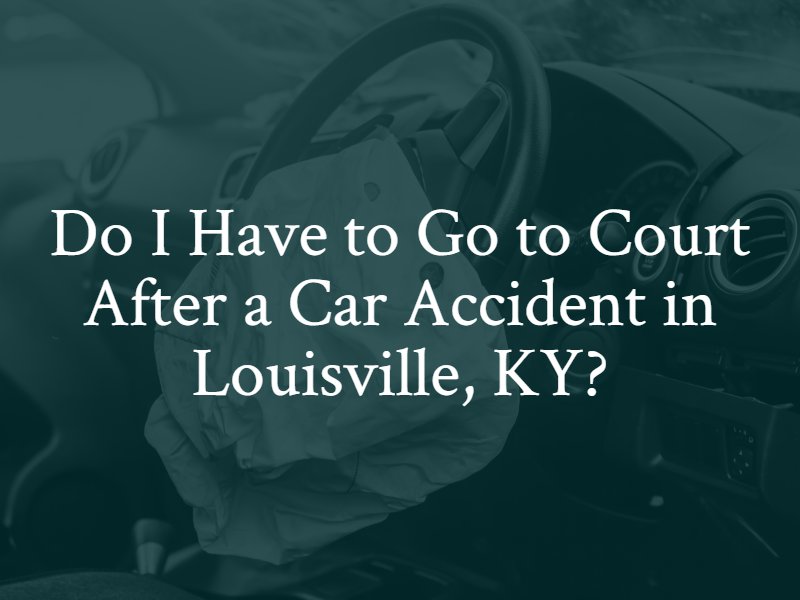 How Long Do I Have to File an Accident Report or Car Accident Claim in Kentucky?
Victims of car crashes in Kentucky need to be aware that there is a time limit for filing personal injury claims in these cases. The Kentucky personal injury statute of limitations is only one year from the date the bodily injury occurs. However, for car accidents, the statute of limitations that involve personal injury damages have two year limitations.  Due to the short window involved in cases involving personal injury, it is best to act quickly if victimized from a personal injury.  Failing to abide by this timeline can result in an injured victim being unable to recover the compensation they may be entitled to.  To consult with our law office to discuss the unique circumstances with our car accident lawyers, reach out to us via our online contact form.
Recoverable Damages After a Kentucky Car Accident
If you or a loved one have been injured in an accident caused by another driver in Kentucky, there may be various types of compensation available for your losses. This can include:
Full compensation for medical bills and medical expenses caused by the crash
Lost income if you are unable to work while recovering
Any household out-of-pocket expenses you incur
Property damage expenses
Pain and suffering damages
Loss of quality of life damages
The total amount of compensation available in these cases will vary depending on the facts related to each particular situation. A skilled Kentucky car accident lawyer from our law firm can use the resources available to work with trusted economic and medical experts to help calculate total expected losses.