Spotting and Dealing With Nursing Home Negligence or Abuse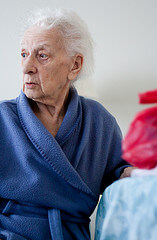 One of the most difficult decisions we will ever have to make is whether or not to put our parents or grandparents into a skilled nursing facility. Once that decision has been made however, we expect our loved ones to receive proper care and treatment while under the care of the medical staff.
Kentucky Elder Abuse Statistics
A release of data from Kentucky Elder Abuse Committee outlining their findings showed that nearly 17,000 reports of potential abuse were reported in 2012. Unfortunately, more than 7,500 of these reports had merit. The most common cases included:
Caretaker neglect – more than 340 seniors were neglected by their caretakers
Exploitation – the study found more than 250 elders were exploited by their caretakers
Victims of abuse – more than 150 seniors were abused by caretakers
Types of Elder Abuse
It is not always evident that your loved one is being abused or neglected. Oftentimes, there are no outward signs of physical abuse such as bruising or sores. However, this does not make the abuse any less serious, if anything, it may be more serious because of the lack of outward signs. Being aware of how your loved one is acting may help you identify various types of abuse including:
Lack of interaction – if your loved one appears to be withdrawing from their normal activities and seems unusually depressed, they may be suffering a form of abuse
Overly concerned about finances – since most skilled facilities handle some part of their patients finances there may be cases where the funds are being diverted to someone on the staff
Personal appearance – when a senior suddenly stops caring about their appearance, fails to maintain regular hygiene it may be a sign they are being abused or neglected
Sadly, senior abuse comes in many forms including sexual abuse, emotional abuse and physical abuse. It is important for us as family members to watch for any signs of potential abuse of our loved one and take steps to ensure it stops immediately. Generally, this will mean reporting suspected incidents to the facility, notifying Kentucky Child/Adult Protective Services and contacting an attorney who understands elder abuse law.
While an attorney cannot undo the harm that has been done to your loved one, we can help ensure they are compensated for the suffering they have endured. We can also make sure the people responsible for their pain never have an opportunity to do harm to another senior in their care. Whether the abuse is a one-time incident or the facility shows an ongoing pattern of hiring poorly trained staff members, your loved ones should not suffer at their hands. If you believe your loved one has been mistreated at a nursing home or other long-care facility, contact Meinhart, Smith & Manning, PLLC for help. We'll do everything in our power to pursue a case under Kentucky malpractice laws to get justice for your loved one.
Photo Credit: Billy Wilson Photographycc