Child Safety Seats and Passenger Safety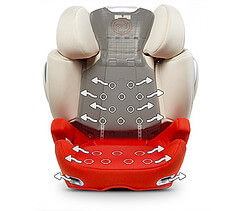 Kentucky Transportation Cabinet advises on child passenger safety by giving National Highway Traffic Safety Administration statistics on the injuries that may occur when a child is not safely belted or seated in a car.
Child Safety Seats Not Installed Properly
According to the statistics, over 90 % of child safety seats in the United States are installed incorrectly. When used properly, child safety seats are 71 % effective in reducing infant fatalities, 67 % effective in reducing the need for hospitalization, and 54 % effective in reducing fatalities for children ages 1 to 4.
Kentucky has a booster seat law.  Senate Bill 120 requires children younger than 7 and between 40 and 50 inches tall be secured in a booster seat.  They are an extra safety precaution on top of children wearing seatbelts.  Because of the danger of airbags in front seats, children generally sit in the rear seats.  If not seated correctly, a child can die if a frontal collision causes trunk cargo to collapse the rear seatback forward.  In Kentucky, law enforcement officers issue citations with a $30 fine with no court costs when children do not use booster seats. Violators have the option to buy a booster seat rather than paying the fine.  Boosters lift the child up off the seat to improve the fit of the seatbelt.
Automakers need to investigate making seatbelts fit and perform well in the event of an accident involving children.  The consequences of poor fit may lead to the manufacturer and retailers getting sued for products liability.  Uncomfortable belts may not be worn by a fussy child.  For strict products liability, the child is a foreseeable plaintiff of a car manufacturer or retailer though the child may not be the car owner or purchaser.
Some parents may place a belt behind a child's back if the shoulder belt cuts across a child's neck.  Safety experts suggest shoulder belts should not be placed behind the back.  The lap portion of the seatbelt should fit low on the hips or high on the thighs and the shoulder portion of the belt should be across the collarbone.  An improper fit of the belt can cause the lap belt to ride up over the stomach and the shoulder belt to cut across the neck, possibly exposing the child to abdominal or neck injury.  Seatbelt effectiveness depends on the belt staying on the hard bones of the body, such as hip and shoulder bones.  This transfers crash forces to the bones to avoid vulnerable body parts such as the head and abdomen.  A belt that does not work correctly could result in a child suffering traumatic head injuries, organ damage, or death.
Other Hazards to Child in Cars
Vehicles can pose hazards to kids even when not on the road.  For instance, automatic windows can strangle a child.  When shopping for a car, see if window switches are designed like garage door openers to make it accidentally hard to close the window when there is an object in the way.
Protecting a child in a car is up to parents, drivers, and automakers.  When a child dies in an accident, each party who plays a role in keeping the child safe may be accountable for any child injuries.  To learn more about what to you or a loved one can recover in a child passenger safety claim, contact our Louisville car accident lawyers for a free consultation of your rights.