Fighting Back for Your Child After Daycare Abuse or Injury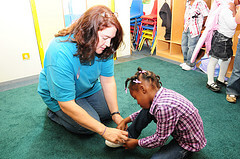 Nearly every child has to deal with occasional bumps and scrapes, but sometimes kids come home from daycare with injuries that never should have happened. These injuries happen for a number of reasons. There may be a lack of supervision caused by either inattentive staff or the inability of the daycare center to hold up proper staff levels. Or sometimes, a child comes home with an injury due to abuse. If you suspect your child has been injured at a daycare facility, contact our Louisville personal injury lawyers.
Abuse By a Daycare Worker
Scott County District Court Records describe an incident that occurred back in August of 2013, where a two year old girl suffered a broken clavicle after being roughly handled by a daycare worker in Georgetown, KY. The center's policy indicates that an incident that causes injury toward a child be documented as soon as possible after it occurs, but this didn't happen. It was only after the child's mother took her to the hospital, and surveillance video was viewed that the truth was revealed.
The video showed a daycare worker harshly moving a chair away from the child and standing her up, resulting in the child falling, the suspect convinced a coworker to report that the child had fallen on her own.
Not only the the daycare center cause the child's injury, but they did not take action to see that the child was treated, and attempted to cover the injury up. Still with all the evidence, it was two months after the incident before the worker was arrested.
As devastating as this experience must have been for the child and her family, there are plenty of other cases of daycare abuse and neglect that aren't prominent news stories, but those experiences are still upsetting to the families that experienced them.
Injuries That Can Occur at Daycare
In addition to abusive situations, a child may fall, choke or be hurt by another child due to lack of supervision. They may suffer infection or more serious effects from their injuries because staff members don't have the proper first aid training. At times a child's allergies aren't given the attention they deserve. Children are allowed to play with dangerous toys or playground equipment where continued use by children causes illness or injury.
If you suspect that your child's daycare is causing illness or injury, or is not taking reasonable steps to prevent accidents from happening, it's important to discuss your concerns with a Louisville child injury attorney, especially when the day care center is less than forthcoming about what is happening.
Sometimes finding any daycare for your child can be a challenge, but at the very least your child needs safe and nurturing care. Parents often have amazing intuition when it comes to their children. Don't ignore this intuition. Fight for your child today by contacting the attorneys at Meinhart, Smith & Manning, PLLC to discuss your legal concerns.
Photo Credit: heraldpost cc