Settlement After an Accident: How Long Does It Take?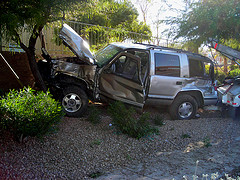 If you or a loved one is injured, or even passes due to a car accident in Kentucky, there's no doubt that you'll work with a Louisville car accident attorney to get the compensation which you deserve for the suffering and loss. However the time frame for receiving a settlement is not fixed; it could range from weeks to years.
Factors in a Car Accident Settlement
Who was at fault
If the guilty party readily admits their wrongdoing, the case will likely move along more swiftly than those who work hard to defend themselves, or if the fault is unclear. Documentation such as police tickets, security camera recordings and eyewitness statements aid in getting the case settled faster.
Complications
Cases that simply involve gross negligence by the other party usually get settled faster than those which involve someone who is under the influence of drugs, alcohol or was doing some other activity which caused them to be arrested due to causing the accident.
Which insurance companies are involved
Insurance companies do their best to pay out as little as possible, but some companies are easier to deal with than others. Reputable companies will be the most cooperative, but "no-name" companies that offer cheap coverage will put up a fight to avoid payouts, thus dragging the case out.
Your needs and priorities
There's no doubt that you're facing a mountain bills, ongoing costs and lost wages following your accident. If you're willing to accept the first settlement offer with which you're presented, you can have the money in your bank account quickly. But if you can find other ways of getting through the financial storm, and are willing to wait as long as necessary, you can get a handsome settlement though you may wait a year or longer.
The Waiting Game
If you decide to accept the first settlement offer which is presented to you, you could have your money within a few months of the accident. However, first offers are seldom as high as the other party is able to go if you can wait longer. By walking away from the initial offer, you let the other party know that you're serious about getting the maximum amount of compensation and will go through the necessary steps in order to get that.
Working with a Louisville injury attorney gives you the strength to not just accept the first offer of $10,000 when we know that similar situations have resulted in settlements multiple times larger than that. On your own, you wouldn't know this and, to be honest, $10,000 is a good deal of money. But we know that it's not the best they can do, so we'll use the resources at our disposal to see to it that your final settlement is significantly greater than the first offer.
Only you, as the client, can make the decision as to whether or not you'll wait them out; we'll advise you based on our experience with cases of similar nature, but at the end of the day, you make the call. We're here to help you get the justice that you're entitled.