Finding the Proper Care Following an Auto Accident
Auto accidents happen every day. We see the results on the news and we move on, not thinking twice. But when you or a family member are involved in an auto accident in Louisville, everything changes.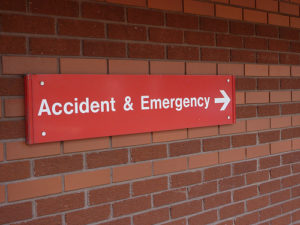 Suddenly, the details matter, the cause becomes important. Most of all, the injuries can become life-changing. Medical bills can pile up, pain can become constant and regular activities (like holding down a regular job) can become painstakingly difficult.
The police may help you file an initial report, and, when necessary, doctors and emergency personnel can help you become well enough to go home…but once you're there, what's next? Where do you turn for assistance? How do you care for your—not always visible—injuries?
It's all about taking the right steps from the start. Below is a guide to get you started.
1. Obtain a record of all medical and police records.
Sometimes injuries can manifest themselves in different ways over time. Sometimes tests immediately following an accident do not reveal the full extent of your injuries. For this reason, it's important that you obtain and save a copy of all records related to your accident. This includes police incident reports.
2. Make sure you receive the proper care.
Following an automobile accident, you may have a need for medical care that you've never needed before. Make finding the right care provider a priority. Look for someone who makes you feel comfortable, never rushed. You want a doctor who will take the time to listen to what you have to say and to answer questions about your condition.
By becoming your own advocate, you'll ensure you receive the best care possible and are able to rehabilitate your injuries for the best long-term outcome and hopefully avoid medical malpractice. Do not neglect the importance of finding the medical professional and medical team that's best for you.
3. Work with an experienced accident attorney.
Just like finding the right medical provider is crucial, so is finding the right legal team to represent you. Even if you're unsure of the benefits to which you may be entitled, speaking to an experienced Louisville car accident lawyer who offers free consultations is a good idea. You may be entitled to monetary compensation that you may be unaware of.
Medical bills following an accident can be staggering (whether you have "good" health insurance or not). You may need help in this area. For this reason, it's important to find a legal representative from the start. Each state has time limits for when legal action can be taken, so looking from the start is usually a good idea.
At your consultation, ask questions and be specific. Bring copies of your medical records to be sure your attorney has all of the information needed to provide solid guidance. Your accident attorney should be able to advise you of next steps and to guide you throughout the process. Feeling comfortable is of the utmost importance.
4. Follow your own timeline and listen to yourself.
No one else can tell you how to recuperate following an automobile accident. Some scars take longer to heal than others. Listen to your body. If therapy is needed, put your all into it. If you're having trouble reliving the events of the accident, look for a therapist. Whatever steps you must take to get back on your feet, it is crucial that you take them.
Following an accident, putting yourself first is your best option. Become your own advocate, take the time to heal and find a team that supports you. For a free consultation contact our Louisville personal injury lawyers.
Photo:  Some rights reserved by lydia_shiningbrightly