COVID-19 Impact on Motor Vehicle Collisions in Louisville
The coronavirus outbreak has undoubtedly had a significant, negative impact on the health and financial welfare of millions of Americans. However, one silver lining may be a sharp decline in car accidents. With multiple states implementing shelter-in-place laws or similar lockdown orders, major cities throughout the country such as Louisville are experiencing record lows in traffic and motor vehicle collisions. But just how much impact has COVID-19 had on car accidents?
With help from data visualization agency 1Point21 Interactive, we analyzed the freshest possible data from the Kentucky State Police (KSP) to find out.
Since March 12, when the city of Louisville began taking measures to close business and public places, there have been 936 motor vehicle collisions in Jefferson County.
When compared to the same range of dates from 2019 (March 12 – April 28), this constitutes a 72 percent drop in crashes.
Since the state of Kentucky issued an official stay at home order, effective March 26, the drop is even more significant with 80 percent fewer crashes than then there were in 2019.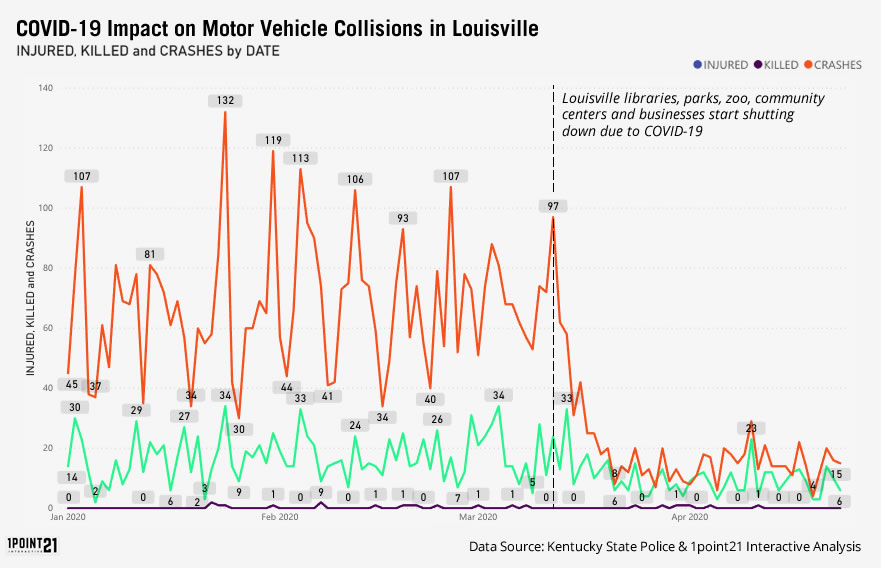 A significant decrease in collisions should be expected when the majority of the population remains at home. However, Louisville did not see a commensurate drop in injuries and fatalities.  If fact, it appears that the roads are more dangerous than ever.
Vehicle occupants involved in collisions during the pandemic response have been more than twice as likely to be injured than they were in 2019.
Between March 12 and April 28, those 936 motor vehicle crashes resulted in 487 injuries and 7 deaths – a rate of nearly 53 injuries for every 100 crashes. 
During the same range of dates in 2019, there were only 26 injuries per 100 crashes.
Mapping the Data
The differences are vast, but we wanted to visualize just how vast.  The following is a year-over-year comparison of crashes in Louisville from March and April. The brighter the point appears on the map, the higher the concentration of accidents at that location.
Drag the slider buttons over each each left or right to see the different from 2019 (left) and 2020 (right).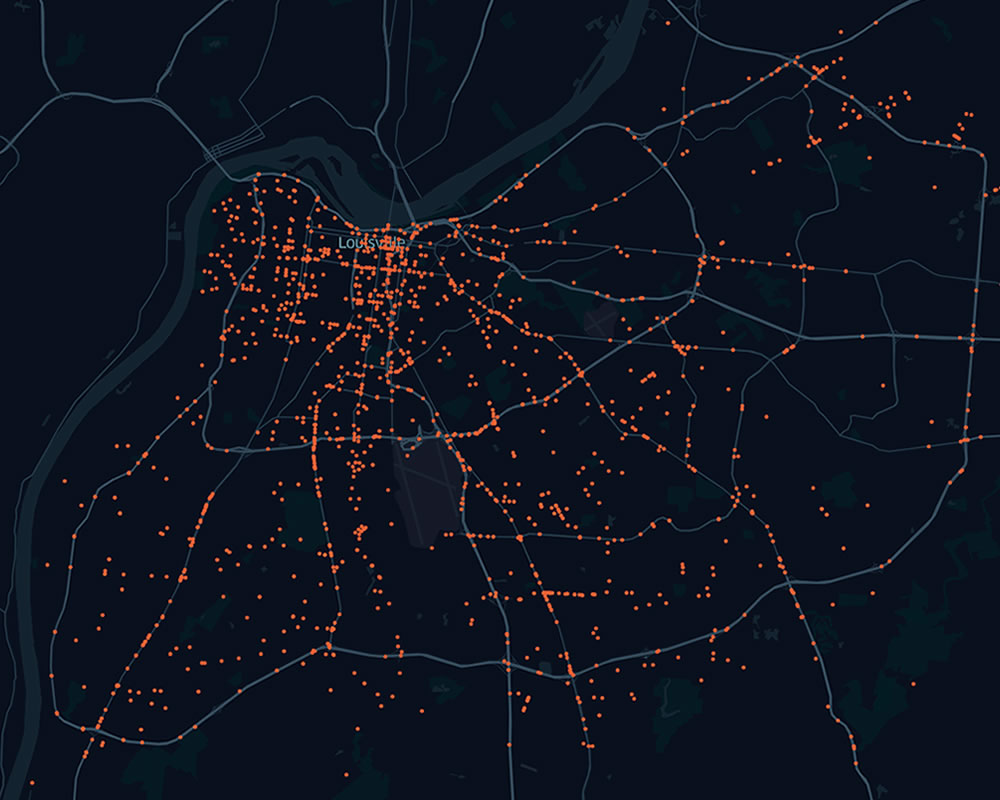 The maps below show different collision hot spots from 2019 compared to that same location during the Coronavirus pandemic response.
Collisions from March & April 2019 (zoom in on streets)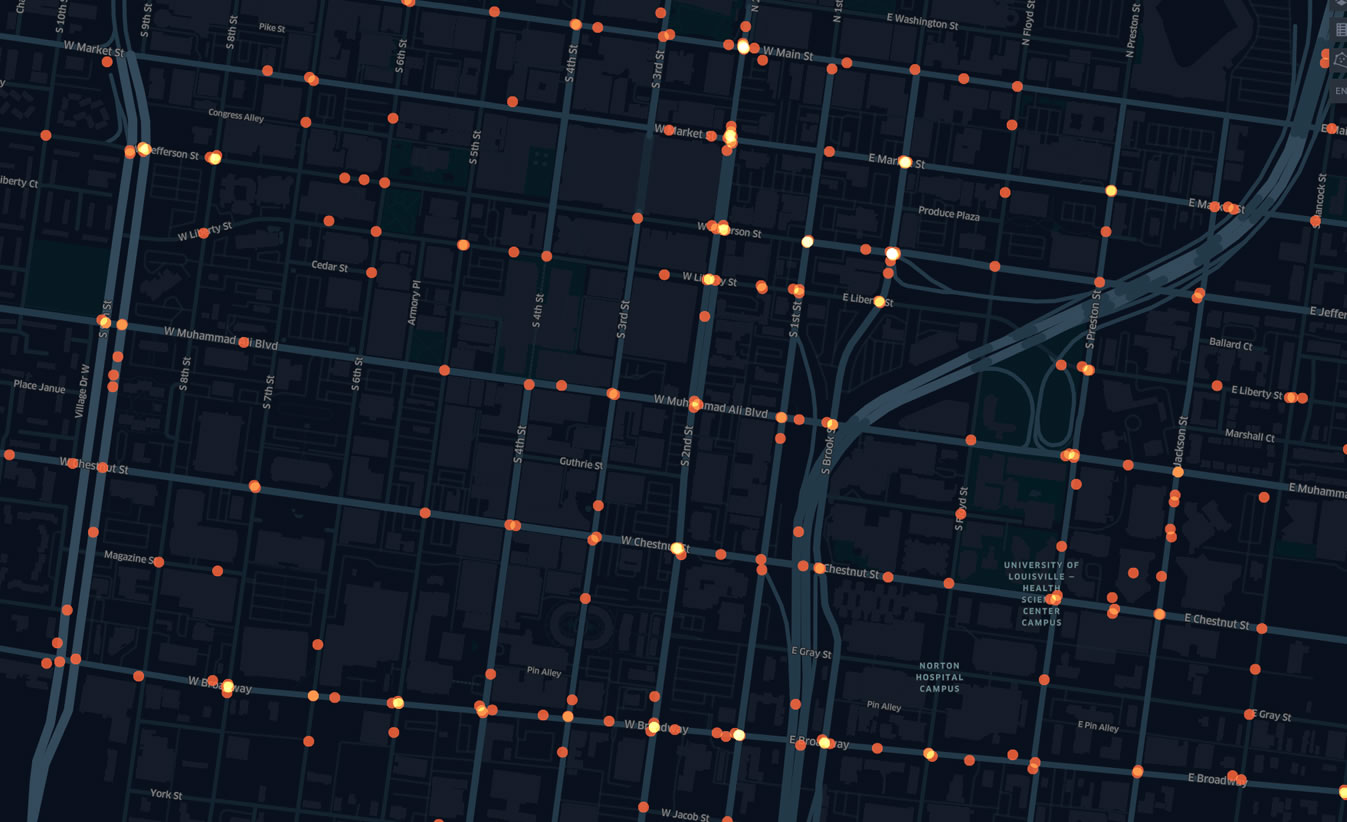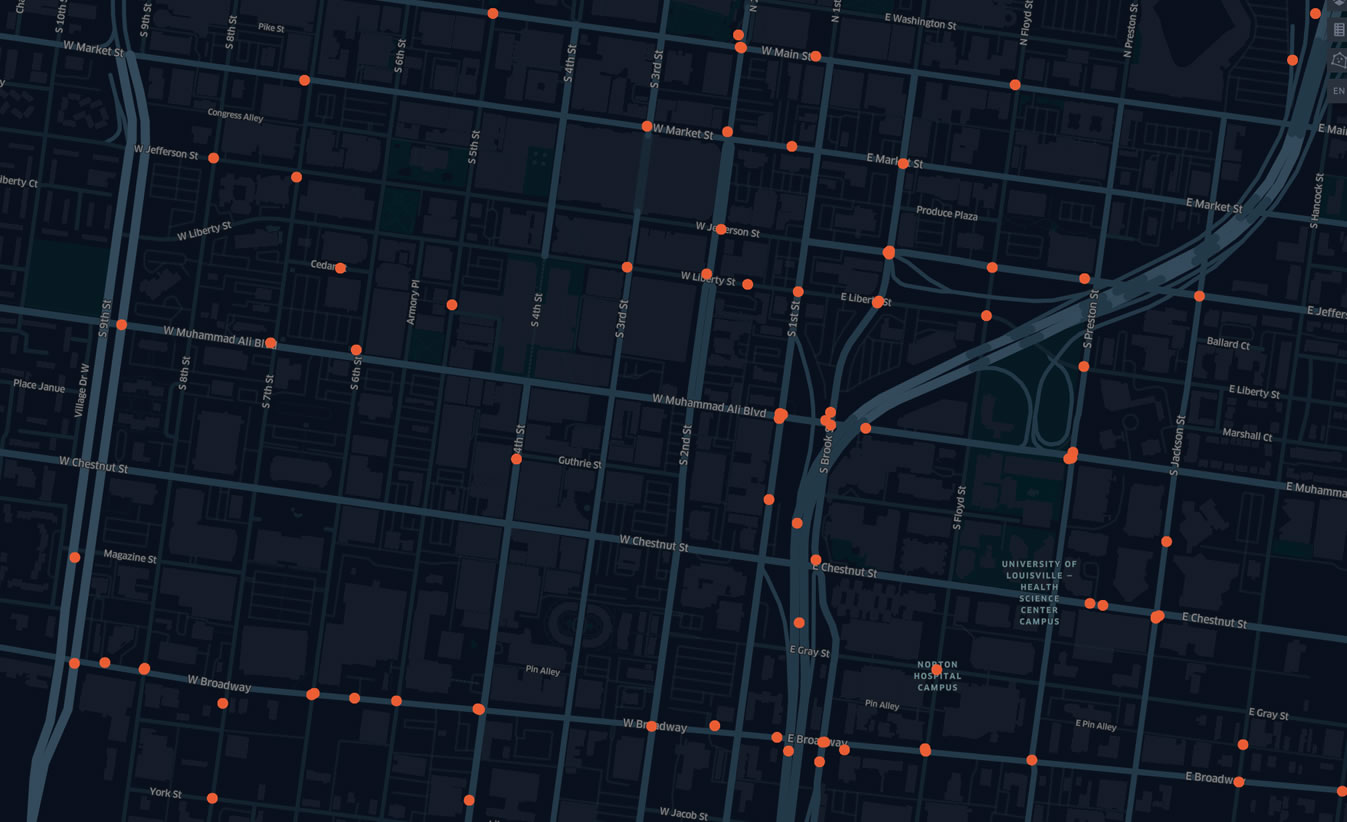 W. Market St & 2nd St Collisions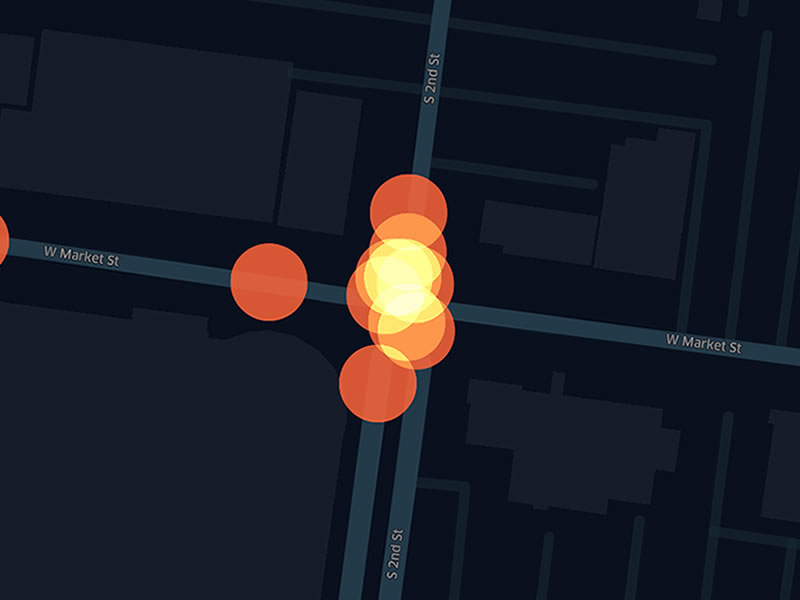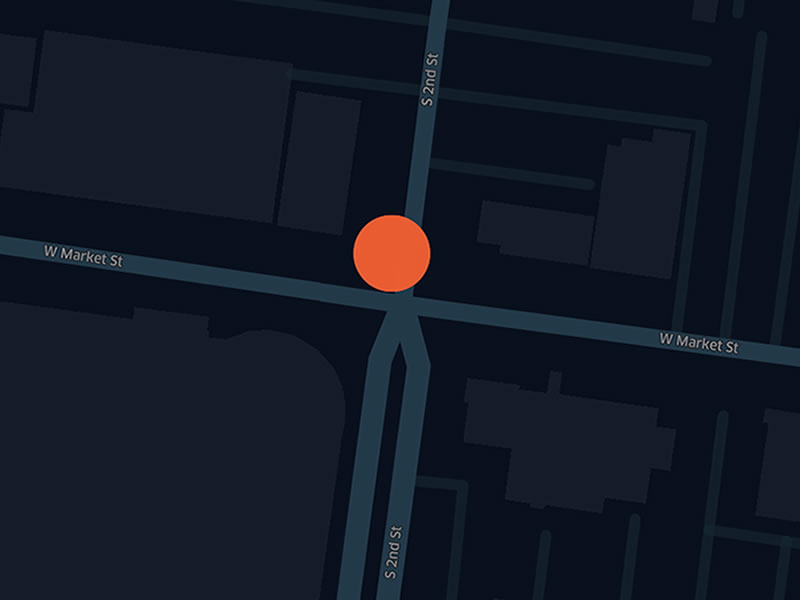 It is clear that the coronavirus outbreak has had a very significant effect on Louisville's streets.
What COVID-19 Factors Contributed to These Findings?
It is notable that motor vehicle collisions in Louisville dropped precipitously on March 12. Especially given that Kentucky governor Andy Beshear declared a "Healthy at Home" initiative on March 25 – nearly two weeks after the steep drop-off.
However, as we noted above, Louisville began taking steps in response earlier, the first major one occurring on March 12. The sharp decrease may be also attributed to other local and national events. On the Coronavirus timeline, this point in time is widely considered the period where the COVID-19 outbreak impacted Americans in some way:
On March 11, President Trump announced a 30-day ban for all travelers from Europe.
On March 11, the NBA suspended all games for the rest of the season after Utah Jazz players Rudy Gobert and Donovan Mitchell tested positive for COVID-19.
On March 11, Tom Hanks and Rita Wilson announced that they tested positive for the novel coronavirus.
On March 12, the NCAA officially canceled its men's basketball tournament, one day after announcing it would hold a tournament in a closed venue with no fans.
Perhaps as a direct result, six Kentucky school districts closed on March 12 to prevent the spread of COVID-19. On the same day, Governor Beshear encouraged congregations to put a temporary halt to religious services to prevent further spread of the disease. On March 16, he ordered that all restaurants and bars in the state remain open only for takeout and to-go orders, and on March 17 he ordered non-essential businesses or businesses who were not able to comply with CDC guidelines to close by the end of the day.
Interestingly, there was a small spike in motor vehicle collisions the week of April 5 – April 12. Although it is difficult to pinpoint the exact reason for an increase, it would be reasonable to attribute it to an increase of activity and religious services leading up to Easter Sunday.
Why are injuries occurring at a higher rate?
The answer is likely a combination of factors.  People are likely very distracted, anxious and even scared.  This may result in them being in a rush or cause their attention to be anywhere but on the road and those around them.  Speed and distraction are major factors in motor vehicle crashes.
At the same time, many people have not been driving with regularity, which may affect their reaction time and overall driving ability.
Driver Safety Tips in a Post-COVID World
Despite the threat of coronavirus still looming over the world, many states have begun to discuss the topic of lifting shelter-in-place orders and reopening states while remaining respectful to the community. This may include getting behind the wheel after not having driven for a prolonged period – for some, as many as two months.
Before doing so, it is highly recommended to take the following tips into consideration.
Be sure your vehicle is operating safely
Leaving a vehicle undriven for an extended period of time can significantly affect it's operational capacity. The battery may be drained, fluids in the vehicle can settle, and tires may develop flat spots. Mechanics and automobile experts recommend running vehicles at least 30 minutes every week in order to combat this. If you have not operated your vehicle since before lockdown, pay careful attention to your vehicle's tire pressure, oil, and battery levels.
Take off your mask
On April 24, a driver in New Jersey struck a power pole after passing out behind the wheel. Further investigation found that the driver had been wearing an N95 mask for several hours, including while driving – and had subsequently passed out due to lack of oxygen and/or excessive intake of carbon dioxide.
While masks may be recommended in public to prevent the spread and/or infection of COVID-19, there are currently no studies that definitively show any benefits of wearing a mask in your personal vehicle.
Follow all road rules
Recent data indicates that, because of the lack of vehicles on the road, drivers may be speeding more often and driving more recklessly on the road. As the charts above indicate, while total traffic collisions dropped precipitously in Louisville, injuries and fatalities were not drastically affected.
Obey all road rules. Follow all the posted speed limits, use your turn signals to indicate lane changes, and keep an eye out for other potentially reckless drivers on the road.
Reacquaint yourself to your vehicle and to your surroundings.  It may have been weeks or months since you found yourself driving at freeway speeds or in traffic and your ability to assess danger on the road may be diminished.  Don't drive distracted and take all the time you need to be comfortable on the road.
Be considerate of other drivers
Any stress, fear, and anxiety caused by the COVID-19 outbreak can affect the way you drive. These factors can be a form of cognitive distraction: something that is on your mind that can impact your ability to drive with your full attention on the road.
Try to minimize any and all distractions that may present itself in a vehicle to prevent any stress from being exacerbated. Additionally, be compassionate and considerate of other drivers – if you are experiencing anxiety from the current situation, there is a high chance that other drivers on the road are as well. Minimizing stress given to each other can be an effective way to drive safely with these cognitive distractions in mind.
If you feel unsafe, don't drive
If any current situations still make you uncomfortable to drive, do not drive until you are more confident in your abilities. Start slow and practice when there are few vehicles on the road before attempting to tackle a traffic-laden freeway.
A reopened state may realistically cause a surge of traffic to our freeways and potentially unsafe driving conditions for a week or more. If you can avoid it, it is highly recommended to do so.
If you have been injured in a Kentucky car crash, reach out to our Louisville car accident attorneys today.