Louisville Birth Injury Lawyer
Obstetricians, doctors, surgeons, and nurses are responsible for bringing new lives into the world safely, properly, and without preventable issues. While complications can arise with any birth, one problem parents cannot – and should not have to – prepare for is the negligence or incompetence of a physician or other medical professional.
If you've recently learned your infant is suffering from birth trauma, a neurological disorder, or birth defects and suspect it is due to medical malpractice, call (502) 589-2700 today for a free consultation with an experienced Louisville birth injury attorney.

What are Common Birth Injuries?
Our Louisville birth injury lawyers dedicate their professional lives to seeking justice and financial recovery for injured or wrongfully killed infants in Kentucky. We help parents identify the responsible party or parties- such as the individual doctor, the hospital, or birthing center- and go to bat for them, hopefully preventing similar tragedies and acts of medical negligence in the future.
We've provided our legal representation to parents with infants suffering from common birth injuries such as:
Bone fractures
Cephalohematoma
Cerebral palsy
Facial paralysis
Hypoxia
Brachial plexus injuries
Severe jaundice
Shoulder dystocia
Spinal cord injuries
Our skilled team of Louisville birth injury lawyers can investigate your baby's injuries or recent disorder diagnosis using our unique tools and resources to get to the bottom of who or what might have caused the harm. If we find evidence of medical malpractice, such as physician incompetence or improper use of birthing tools, we can file a personal injury claim on your behalf. Our Louisville birth injury lawyers take birth injury cases on a contingency fee basis, meaning parents don't have to pay anything for our services unless we win.
Why Do Birth Injuries Happen?
As a parent, it's natural to ask why you and/or your infant are undergoing any kind of harm, birth injury, or complication. At Meinhart, Smith & Manning, PLLC we encourage you to do just this. Ask your physician why your infant has lacerations, broken bones, brain damage, or other injuries after birth. Ask the hospital why it failed to keep your baby safe. Our Louisville birth injury attorneys will thoroughly investigate their answers on your behalf. We'll take care of the most difficult aspects of your birth injury case, such as proving fault, so your family can focus on healing.
Medical Malpractice Causes Birth Injuries to Occur
In our decades of experience as legal representatives, we recognize the most common factor involved in preventable accidents is negligence. Civil law revolves around the legal concept of negligence. If a birth injury occurs, there is a good chance it has a foundation in negligence, or medical malpractice. The acting physician might be negligent in monitoring the mother and child's vital signs, detecting problems, and taking proper emergency action. A nurse might be negligent in caring for a newborn. A hospital may have failed in fulfilling protocol. Whatever the case, contact our Louisville medical malpractice attorneys for legal advice and assistance in getting fair compensation for your birth injury case.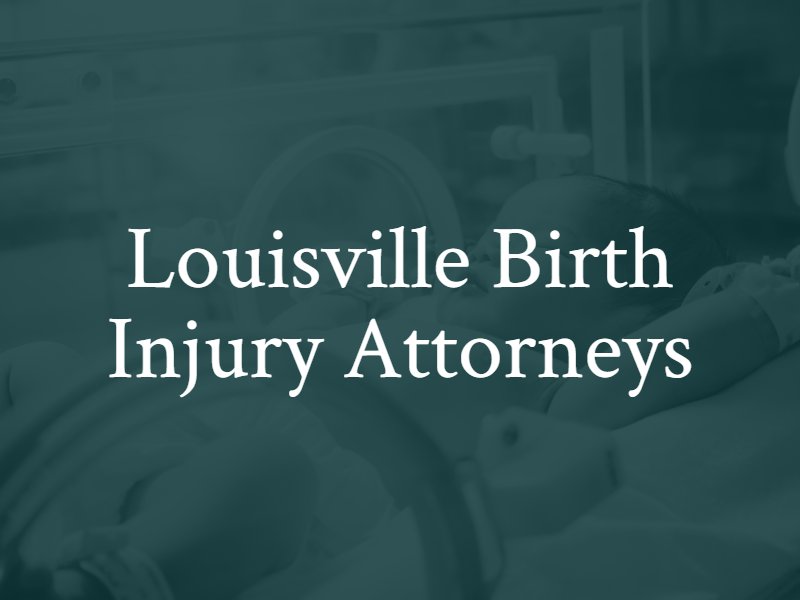 Our Experienced Louisville Birth Injury Attorneys Can Help You
If you suspect someone else's negligence or wrongful act harmed your child, contact our birth injury lawyers for a free consultation. As parents, you could recover just compensation for your medical bills, mental anguish, and lost wages. Your child could separately recover for his or her harms, including pain and suffering and lost quality of life. Let our Louisville personal injury lawyers review your birth injury case, let you know if it has merit as a birth injury claim, and extend our legal services to your family if applicable. Call our Kentucky law firm at (502) 589-2700 for a free case evaluation to learn more about your the legal action we can take for your injured child.