Louisville Car Accident Lawyer
Quickly Access Louisville Car Accident Information & FAQs
Every year, thousands of Kentuckians are seriously injured in Louisville car accidents. Distracted drivers, unsafe roadways, and defective vehicle parts are all common causes of car crashes in Louisville.
Our Louisville car accident lawyer has handled numerous accident claims and is familiar with the tactics insurance companies use to try and undercut proper compensation to an accident victim. When results matter, our Louisville car accident lawyer is who to call. If you'd like to schedule a free consultation and initial case evaluation, contact our office today.
WHY CHOOSE OUR LOUISVILLE CAR ACCIDENT TEAM?
Louisville residents have been choosing Meinhart, Smith & Manning, PLLC to represent them in personal injury car accident claims for years. Why?
Our Louisville attorneys are accessible at all times – if you call our offices, an attorney will answer, not a paralegal, assistant, or secretary. We guarantee a personal experience for each and every client.

Meinhart, Smith & Manning, PLLC has won million-dollar settlements for victims of all types of Louisville motor vehicle accidents. We commit to working diligently to ensure each and every client gets the dedicated legal representation they deserve.

Our attorneys take pride in assisting people like you in times of need, and will not charge you a fee until we win your case.
When do you need a car accident attorney in Kentucky?
While some people depend on their insurance company to take care of the situation following an accident, it's important to understand that their solutions are rarely designed to benefit you. Insurance companies are in business to make money and, therefore, try to avoid paying any more than the have to. They will give you the minimum amount of compensation required by law.
When you hire a car accident attorney, he or she comes at the situation with the intention of taking care of you as a client and ensuring that you get the maximum compensation for what occurred. At Meinhart, Smith & Manning, PLLC, we have seen too many victims wind up hurt and unable to pay for their medical bills, lost work and other expenses because an insurance company didn't meet their obligations of reaching a fair settlement. That is why our traffic collision attorneys always work diligently to make sure the insurance company pays every penny that the client needs.
While in some cases, like fender benders, a car accident attorney may not be necessary, there are cases in which a strong legal defense may be your only option to fair compensation. Below is a list of circumstances in which seeking the advice of an attorney is highly encouraged: 
You or a passenger obtained

physical injuries

as a result of the accident

You/passenger obtained soft tissue injuries from the accident

You were involved in a pedestrian/bicycle accident

You had to take time off work because of the car accident injuries

You received a lengthy prognosis for your injury recovery 

You lost a loved one in a car accident

Your accident involved a DWI driver
What are soft tissue injuries?
In general, soft tissue injuries (STI) refer to damage to muscles, ligaments, Soft tissue injuries (STI) from a car accident include any type of damage or lesions to muscles, ligaments and tendons throughout the body. Here is a list of common soft tissue injuries that result from car accidents:
Concussions

Ruptured organ

Whiplash 

Contusion 

Torn Ligaments

Tendinitis

Hurt Tendons

Bone cartilage damage

Bursitis

Impact injuries
Is a Lawsuit Always Necessary?
A lawsuit may not be necessary, but it is in your best interests to at least explore the possibly with an attorney before you accept the offer of the insurer. Contact our Louisville accident attorney team promptly after a car accident so that you have the assistance of an experienced attorney while you are determining whether the insurance company's settlement offer is fair.
If your attorney believes the insurance companies are attempting to lowball your settlement offer, he or she can assist you in gathering evidence, witnesses, and even expert medical testimony to strengthen your case. If mediation isn't working, your attorney will likely proceed with filing a formal claim in court.
How to Handle a Car Accident in Louisville
If you're involved in a car accident, you can experience fear, confusion and even disoriented. It is important to take a moment, once the dust settles, and take stock of how you feel and whether or not you are injured.
Check that everyone is safe. If you are hurt, or it appears that anyone else hurt, the first step is to call an ambulance.
Move to a safe destination. As long as you are not seriously injured, the next step is to move your vehicle out of traffic if it is possible for you to do so safely, to avoid putting other drivers in danger.
Call the police. When you have addressed all immediate hazards, you can then call the police.
Exchange Information. While you are waiting for the police to arrive, you can exchange information with the other driver, including name, address, and insurance information.
Take photos. Ask to take a picture of the other driver's insurance document.

Get witness contact information. Be sure to get contact information for any witnesses that saw the accident.

Take photos of the scene and all property damage. It is also advisable to take photographs of the accident. Try to photograph all aspects of the scene that could be useful in examining the accident, including any obstructions, tire marks, injuries and any damage to the vehicles. Don't forget to take pictures of any cross streets and surrounding areas of the accident.
Give statement to police. Speak to the police when they arrive and give an honest assessment of what happened for the accident report. Stick to the facts as you know them, but avoid taking the blame for the accident. Who was responsible will be decided by investigation of the facts, but it is best not to push the police towards a judgment that you were responsible.
Do Not Give a Recorded Statement
Many people aren't aware that you are not legally obligated to give a recorded statement to either your or another driver's insurance company. If you were injured in a car accident, especially if you weren't at fault, contact an attorney before giving any type of statement to an insurance company. Once you give a recorded statement, it can be very difficult to undo the damage of certain statements. 
Insurance companies many times will act like your friend and be sympathetic to your injuries, only to asking leading questions that favor them, not you. The best way to protect yourself against this is to speak with an attorney. Many law firms, like Meinhart, Smith & Manning, PLLC, offer free consultations, where you can get answers to your questions and guidance towards your best legal options. Don't jeopardize your fair settlement by going in blind. Speak with an attorney first.
Kentucky's "No-Fault" Insurance Laws
Given that Kentucky is one of the few states with a 'No-fault' statute, it means that in the event of an accident, those injured must first seek compensation for their damages through their own insurance provider, regardless of fault. 
In order to seek legal compensation from the other party(ies) in an accident, injuries must be serious enough and the victim's insurance policy must be unable to cover the expenses. Again, this does not mean that no one bears responsibility for an accident.
When can I file a car accident injury claim in Kentucky?
Given that Kentucky is one of the few states with a 'No-fault' statute, it means that in the event of an accident, those injured must first seek compensation for their damages through their own insurance provider, regardless of fault. 
In order to seek legal compensation from the other party(ies) in an accident, injuries must be serious enough and the victim's insurance policy must be unable to cover the expenses. Again, this does not mean that no one bears responsibility for an accident.
Examples of injuries that can lead to a personal injury lawsuit include:
Permanent Injury
Fractured bone
Disfigurement
Loss of body member
Permanent loss of bodily function
$1,000 in medical bills.
Kentucky No-Fault Insurance pays you for the following:
Medical expenses
Lost wages ($200/week unless you purchased more than $10,000 in no-fault)
Replacement services
Survivor's economic loss
Survivor's replacement services
Funeral expenses
What are the Statute of Limitations on Kentucky Car Accident Claims?
After a car accident, the full extent of your injuries may remain hidden. In some cases, certain internal injuries only become evident after a period of time. If you discover injuries or property damages later, how long do you have to file a car accident claim?
One year. You have one year from the date of your car accident in Kentucky to file a claim against the at-fault driver, company, city, or other party. If you miss this deadline, the courts will most likely refuse to let you file at all. Even if you do manage to file, the defense can use the fact that you missed your deadline as a reason to have the courts drop your case.
If nearing the deadline to file, it is especially important that you speak with one of our Louisville attorneys as soon as possible to not lose your opportunity to make a claim.
If a loved one dies as the result of a Louisville car accident, the statute of limitations varies slightly. If you are the executor of the estate or the appointed representative, you have two years from the date of death to file a wrongful death suit on behalf of the estate. However, the estate must file claims relating to loss of consortium – or, loss of the earning power or disability benefits of the deceased – within a year of the date of death.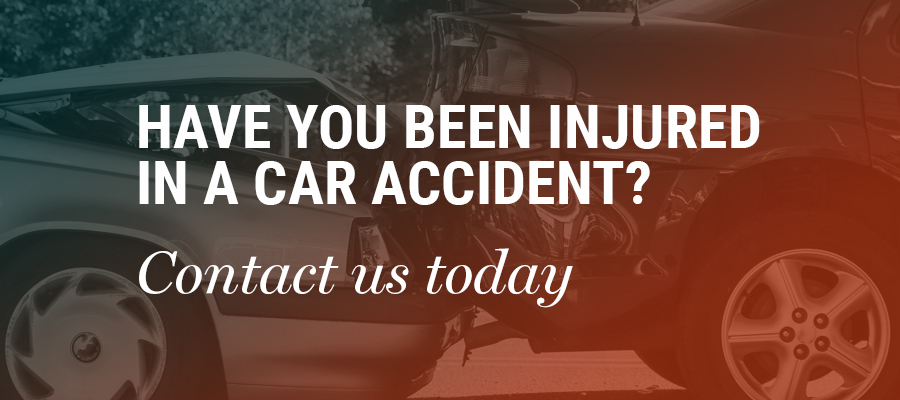 Common Car Accident Injuries in Louisville
In the Louisville area, our attorneys see a number of clients with injuries resulting from car accidents. Injuries vary, though some are more common than others.
Whiplash. Whiplash is the common name for the extensive tendon, muscle and ligament injuries that can result from a car accident. Your body moves forward suddenly, then changes direction, straining your tendons, muscles and ligaments and potentially breaking bones in the area as well.
Abrasions and lacerations. Many objects in a car accident can cause scrapes and cuts, such as the interior of your vehicle, broken glass, the surface of the road, or even the twisted metal of your car.
Contusions. Contusions, more commonly termed bruises, can result from impact to the soft tissues of your body. Bruises can be painful and may signify a more serious, internal injury.
Internal bleeding. You can experience internal bleeding from a number of serious internal injuries. Internal bleeding may not be apparent at the scene of the accident, so it is important to seek medical treatment as soon as possible.
Broken bones. Due to their fragile nature and location near the steering column if you are driving, drivers frequently experience broken ribs in a car accident. Other bones commonly broken due to the unnatural forces of a crash are arms, legs, hips, shoulders, and the pelvis.
Spinal injuries. Injuries to your spine, such as slipped or herniated discs, can result from the rapid change in motion you experience in a car accident.
Knee injuries. Knees often hit the dashboard during a car accident, resulting in injury to the ligaments and kneecaps. Many knee injuries require surgery and take an extensive amount of time to heal.
Head injuries. Also known as mild traumatic brain injuries, concussions occur when the head changes direction quickly, causing the brain to strike the interior of the skull. Other traumatic brain injuries can result from car crashes, and some may not be apparent at the scene of the accident. Head and neck injuries can cause brain damage, paralysis, and even death.
Post traumatic stress disorder (PTSD). Many people suffer PTSD after a car accident. Sometimes, nightmares, flashbacks, anxiety, and depression can prevent you from returning to your daily life after an accident.
Top 10 Causes for Louisville Car Accidents in 2017
In 2017, a total of 782 people died on Kentucky roads. Often, when one driver dies as a result of his or her injuries, the cause of the accident remains uncertain. However, when Kentucky police assess the scene of a car accident, they may list as many as three contributing factors to the accident itself. As a result, Kentucky residents have a more thorough idea regarding the causes of car accidents in the state compared to most others.
In 2017, the top ten most common contributing factors to car accidents were:
Failure to maintain control

(32% of all crashes). Failure to maintain control is a general term that refers to a driver's eventual inability to maintain proper control over the vehicle due to excessive speed or careless driving.

Distracted driving

(17% of all crashes). Distracted driving can include actions such as checking a cell phone, changing the radio station, eating, talking to passengers, unruly passengers, and any other factors that lead to the distraction of the driver.

Alcohol

(14% of all crashes). Drivers do not need to have a blood alcohol level of greater than .08% in Kentucky in order for police to list alcohol as a contributing factor.

Failure to yield

(12% of all crashes). Failure to yield the right of way can occur at cross streets controlled by yield signs, while merging, at flashing lights, or any other time one driver must yield to another.

Improper passing

(9.5% of all crashes). Improper passing includes passing in a no passing zone, such as on a hill, in an area that does not permit passing at all, or passing on the right.

Overcorrecting

(9% of all crashes). Drivers edging onto the shoulder and overcorrecting frequently cause this type of accident.

Drug involvement

(7% of all crashes). Drug involvement encompasses all classes of drugs, including prescription drugs.

Driving too fast for road conditions

(7% of all crashes). When roads are wet or icy, cars should travel only as fast as road conditions allow. This might mean falling below the posted speed limit by 5 or 10 miles per hour, or increasing following distance significantly. Exceeding the suggested reduced speed can result in accidents.

Other distractions

(3% of all crashes). Animals suddenly entering the roadway or other roadside distractions can lead to accidents.

Misjudging vehicle clearance

(2% of all crashes). Drivers attempting to pass beneath underpasses or building overhangs with low clearances sometimes damage the top portion of their vehicles in this type of accident.
Drivers have a duty to drive safely and prevent unnecessary risk of injury to other drivers on the road. If a driver fails in this duty, or is negligent and breaks a law, causing personal injury or property damage to others, his or her insurance should provide compensation for the injured parties' medical bills, missed wages, and even pain and suffering
Schedule a Free Consultation Today
Hiring an attorney from Meinhart, Smith & Manning, PLLC after a car crash can help you explore your rights as a victim and take action against at-fault parties. Meinhart, Smith & Manning, PLLC can help you get the most out of your claim, even with Kentucky's no-fault auto accident laws. Our compassionate and dedicated attorneys understand the physical, emotional, and financial stress that come with being involved in an accident.
Our team can take the burden of knowing and navigating Kentucky's vehicle accident laws off your shoulders. You can focus on recovering from your injuries and getting well enough to return to work while we take care of the legal legwork for you.
We've won outstanding results for our clients in the past, and may be able to do the same for you. Contact our office today and one of our friendly staff members will be happy to help answer your questions.
Additional Kentucky Car Accident Resources